Satisfy a rumbly in mom to be's tumbly by throwing an adorable Winnie the Pooh Baby Shower. Of course these ideas would also be perfect for birthdays too. Stuffed animals make great prizes and favors on the day.
1. Balloon Arch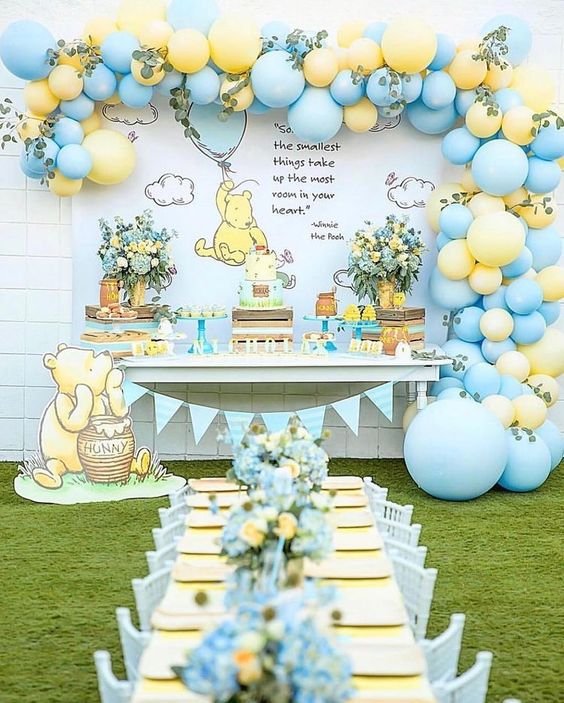 You can work with whatever colors you choose to make this cheerful balloon arch.
2. Hunny Rice Krispies Pops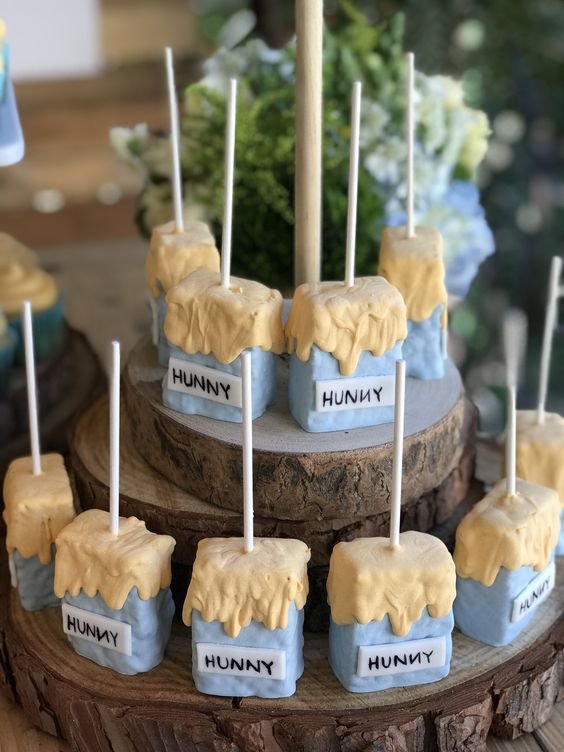 3. Lantern Hives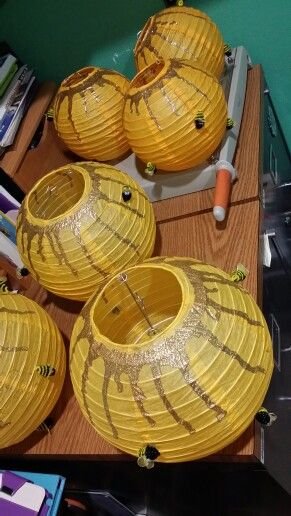 4. Sweet Bee Drinks

A themed drink is a must for showers – so try making these adorable little cups from yellow plastic cups and attach little bees to serve your drink in.
5. Bee Headbands
6. Bee Pinata
7. Honey Bee Favors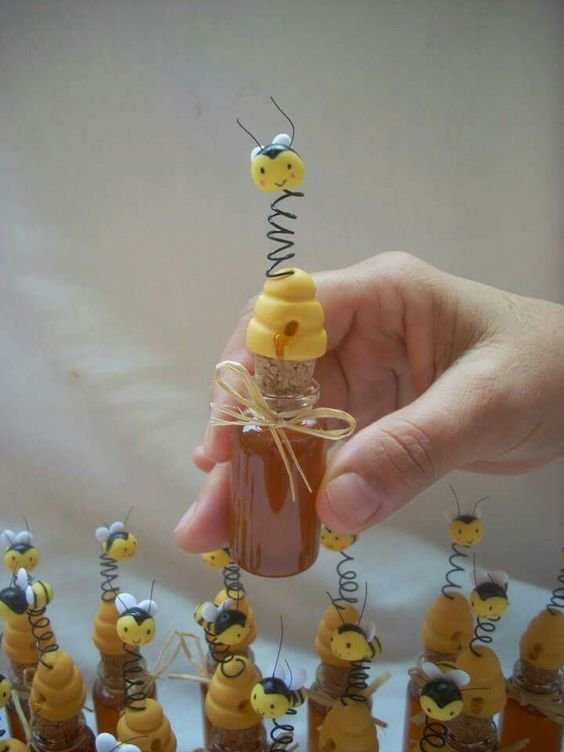 Give out Mini Honey Jars on the day as favors to guests.
8. Beeing our Guest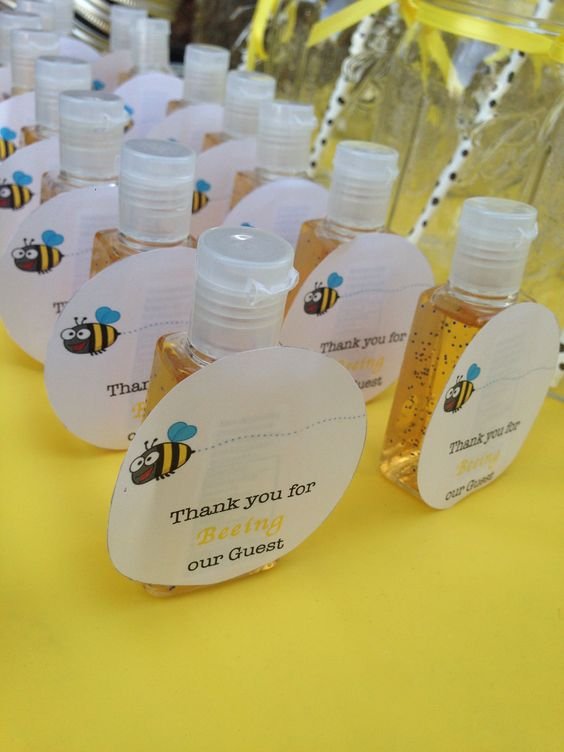 Thank guests for attending with these cute hand wash favors. You can also pick other items such as Burts Bees Lip Balm for example.
9. Yellow & Blue Decor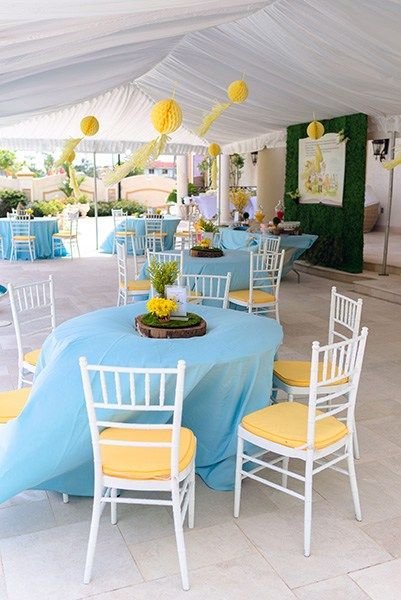 10. Bear Centerpiece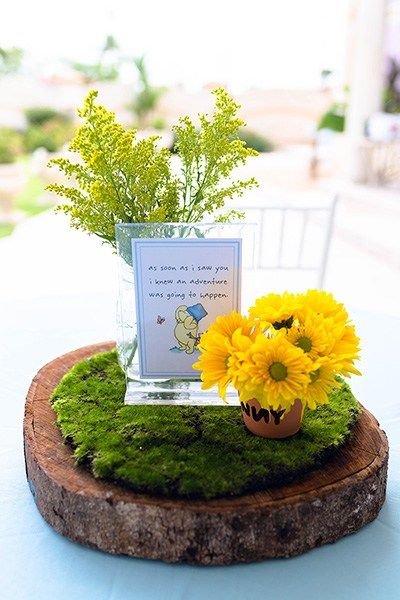 11. Honeysuckle Fruit Tea

you can make your own Honeysuckle Fruit Tea or purchase some for your drink at the shower.



12. Hunny Cupcakes

Paint flower pots to look like honey pots from Winnie the Pooh and use these as centerpieces.
13. Rumbly Tumbly

Let guests help themselves to snacks by leaving disposable plates at a dedicated table.
14. Tigger Cupcakes
15. Centerpiece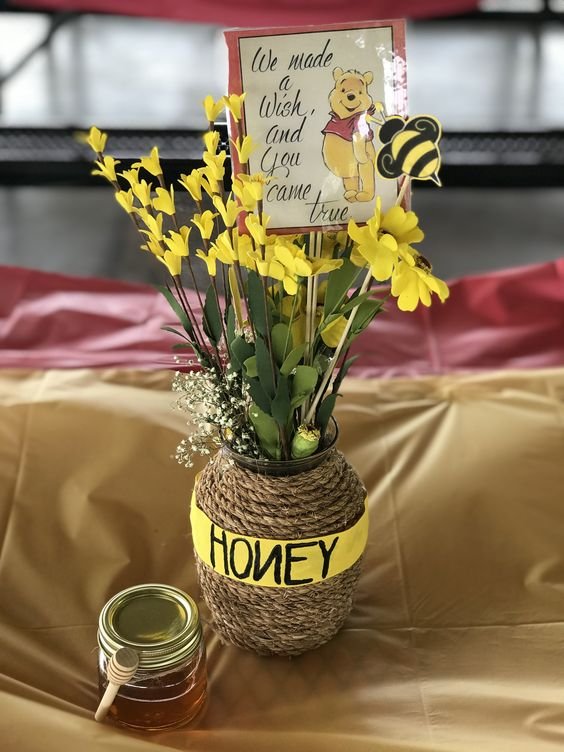 A vase is wrapped with rope to create this adorable bee themed centerpiece.
16. Winnie The Pooh Diaper Cake

This fantastic diaper cake comes in a basket for mom and dad to put baby's laundry in.
17. Pooh Diaper Raffle

Give something back to guests with this cute diaper raffle for people who brought diapers.
18. Guess How Many Honey Combs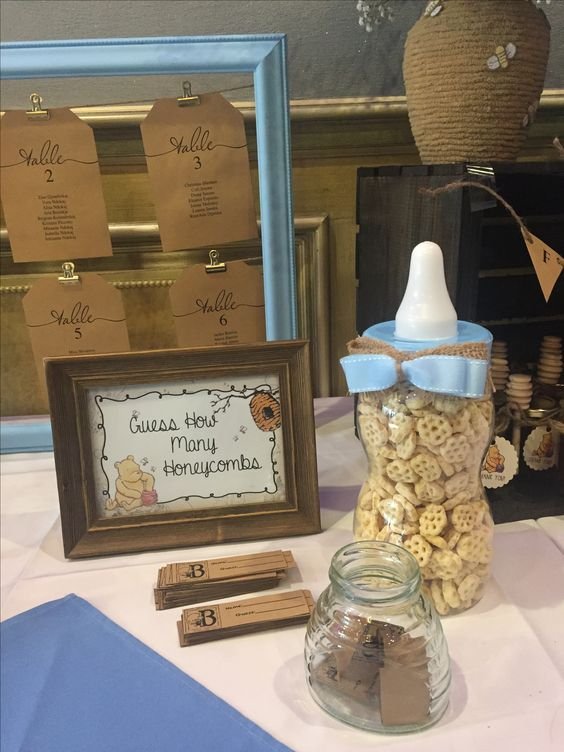 Use Honeycomb Cereal to make this sweet game.
19. Hunny Cakes
20. Eeyore's Balloons

Make healthy treats by putting melon balls in a bowl for guests to help themselves too.