Crafting a Mothers Day Footprint Art project with your little one is an easy way to show Mom your appreciation this Mother's Day. All you need is colored paper, paints, and a marker. Dip your child's hands in paint, and press them onto the paper for a handprint, or use their feet for a footprint. Let the paint dry and then use the marker to give the print details like eyes, a nose, and a heart. Add a sweet message and you've got a personalized gift that Mom is sure to treasure.
Footprint art is a wonderful way to capture a slice in time from your child's life forever. Turn their feet into beautiful butterflies in just a few easy steps.



1. Hand Print and Foot Print Flower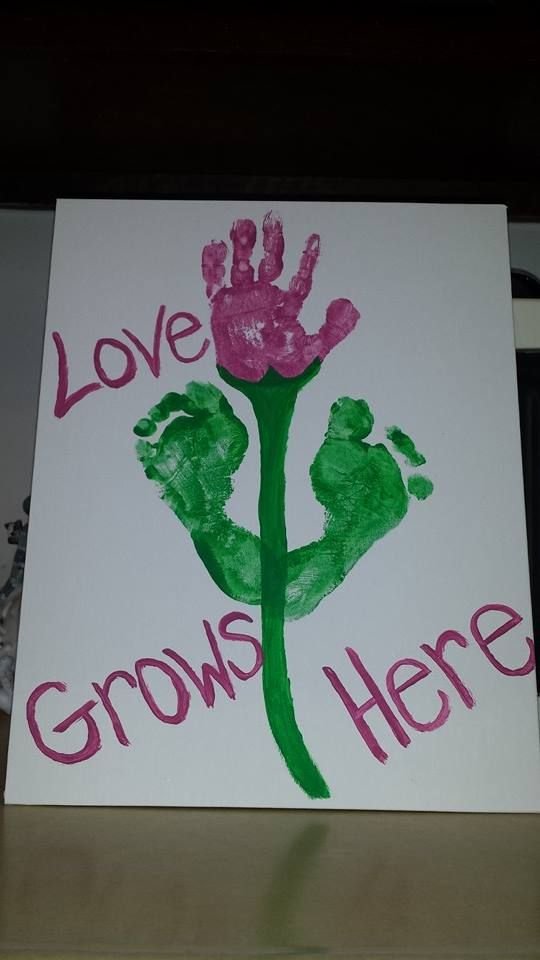 For a timeless option that any mom will love, consider creating classic flower prints. These prints are simple to create and can be customized with different colors and flowers to really make the artwork pop. To get started, have your child dip their hand into some paint and then stamp it onto a piece of paper. From there, they can add stems using footprints and petals to create a beautiful bouquet. Adding a personal touch, like a handwritten note or the date, can make the print even more special.
2. Owl Footprint Craft

Let your child's imagination run wild with some adorable animal prints this Mother's Day! Not only are they cute and quirky, but they're also easy to create. Have your child choose their favorite animal and dip their foot or hand into paint, and then stamp it onto a piece of paper to create the body. From there, they can add details like faces and tails with markers or paint.
Animal prints are a great way to personalize your Mother's Day gift and show off your child's unique style and personality. Whether your child prefers dogs, cats, or even owls, there's an animal print for every mom out there.
Once your child has finished their animal masterpiece, they can add a special message or the date to make it a cherished keepsake for years to come. For another customizable option, try creating a family of animal prints or a scene with multiple animals.
3. Baby Footprint Flowers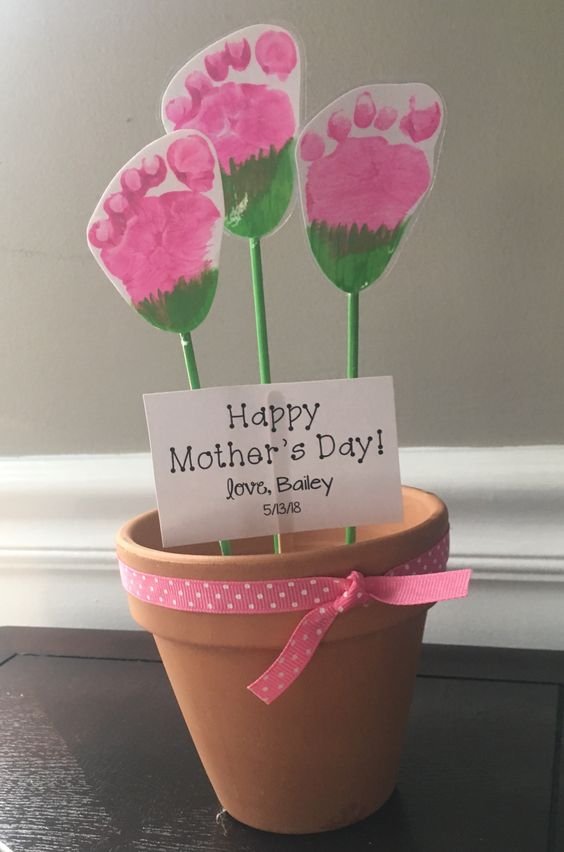 This is an adorable bouquet made from baby's very own foot prints! Begin by painting the foot with the selected paint color. Then place baby's foot on the card stock and repeat until you have the amount of flowers you want. Allow to dry and then cut out and make the stems from extra long paper straws or floral tape. Place the flowers in a pot with a sweet message.
4. Tiny Feet

Mommy, The pitter patter of tiny feet leave behind something dear and sweet a precious treasure for you to keep, the memories of my tiny feet. Happy Mother's Day!
5. Here's a Little Flower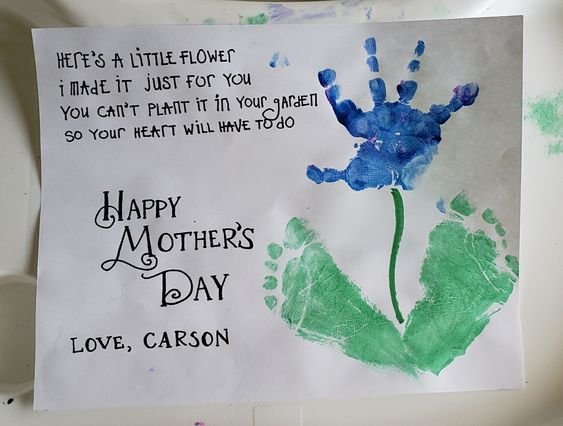 This Mothers day poem and handprint footprint flower is perfect for little one's to make. The poem reads "Here's a Little Flowes I Made It Just for You You Can't Plant It in Your Garden So Your Heart Will Have to Do. Happy Mother's Day".
6. Butterfly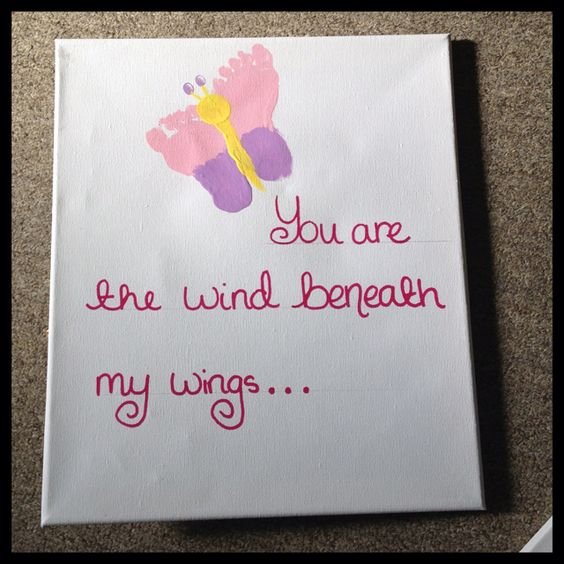 This is a wonderful Mothers day gift which can be made with infant children. Using their foot prints for the butterfly! Mother's will loved it and the children will enjoy making it.
7. Mothers Day Footprint Apron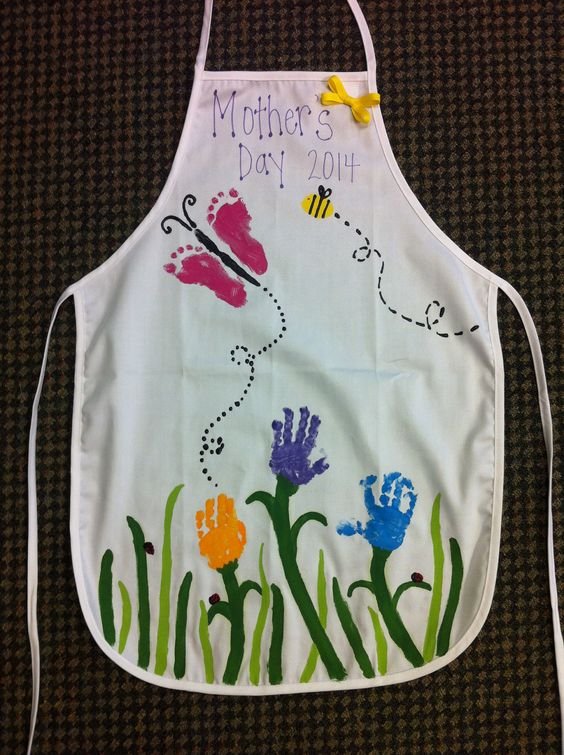 A great way to commemorate Mother's Day is to make a unique, personalized apron. Purchase a plain white apron and decorate it with a footprint of your loved one. Not only is it an easy way to show your sentiment, it also serves as an endearing reminder of your loved one's special day. This is sure to be a keepsake your mom will treasure for years to come.
8. Mother's Day Foot Tulips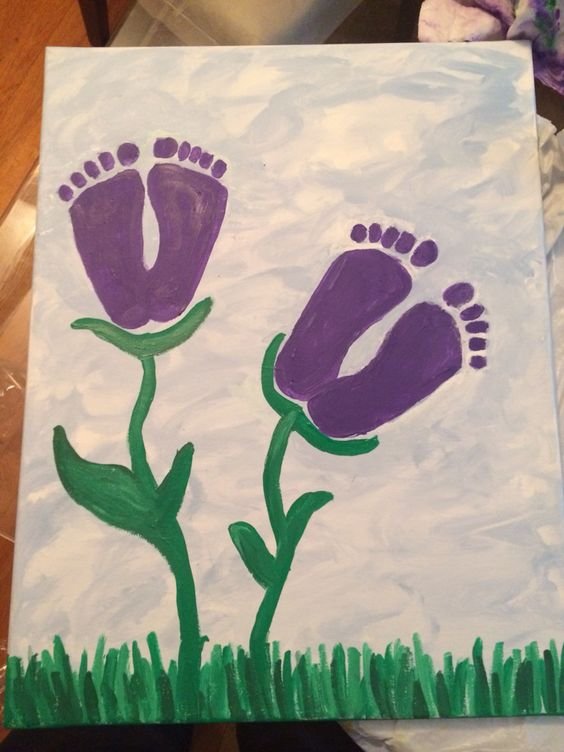 As you can see, you can be really creative with the flowers you choose to make from your foot prints. You can take inspiration from Mom's favorite flower and color.
9. Bee Footprint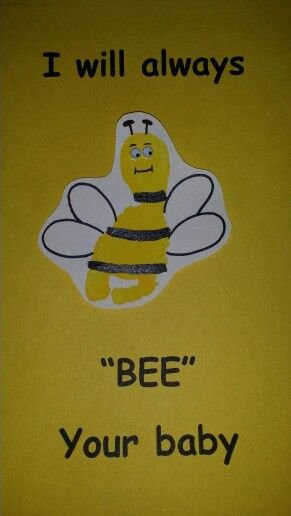 This cute bee can be made by painting your child's foot yellow and printing onto paper. Add details such as black stripes once it has dried. Finish by adorning with googly eyes.
10. Cactus Footprint Art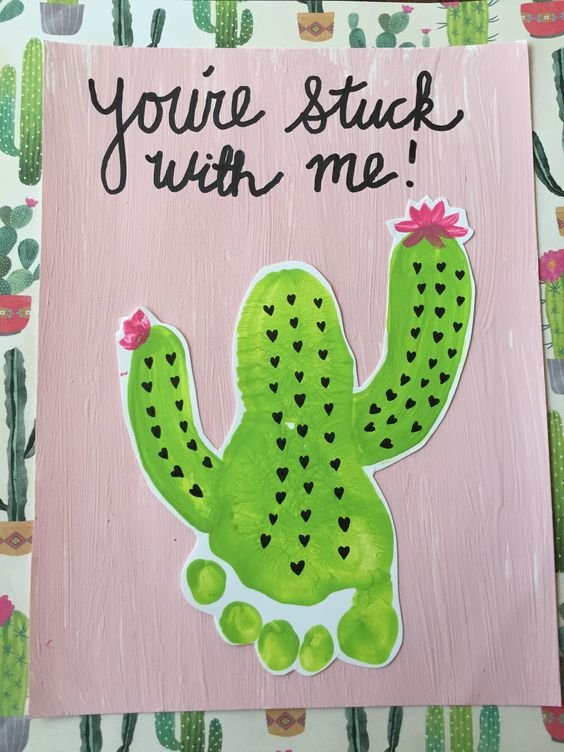 You're stuck with me Cactus pun.
For more ideas check out these Mother's Day Candy Bouquets