Back to school nail art crops up once the summer is over it's time to start concentrating on all things fall .Take inspiration from many of the items found in school such as apples, pencils, notebooks and crayons. Make sure you are the coolest kid in the class with one of these awesome manicure ideas.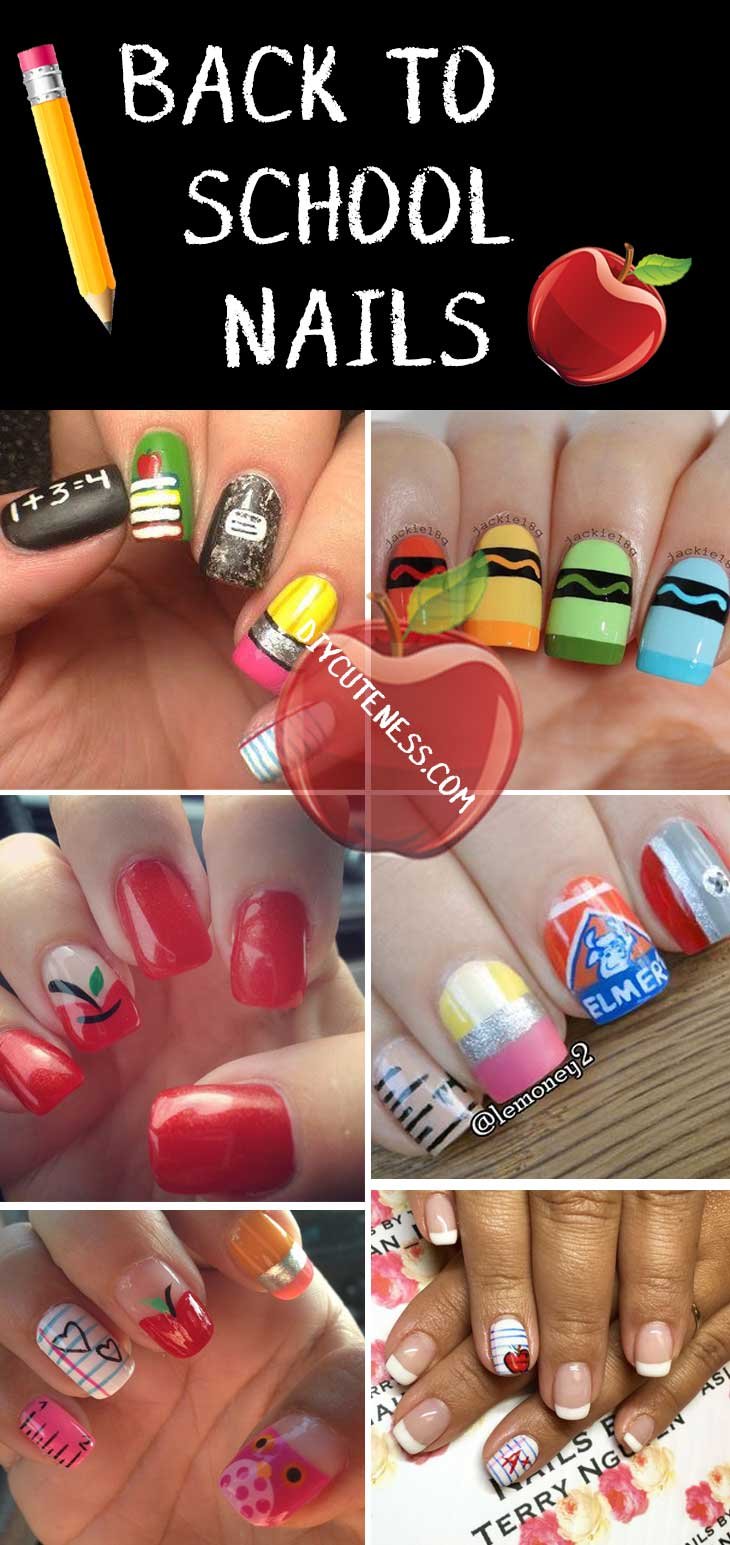 1. Classroom Inspired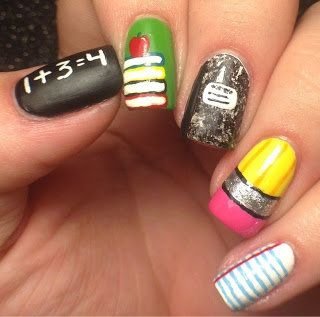 Get the top grades with talons that hint at your eagerness to learn.
source nails.by.teens
2. Colorful Crayons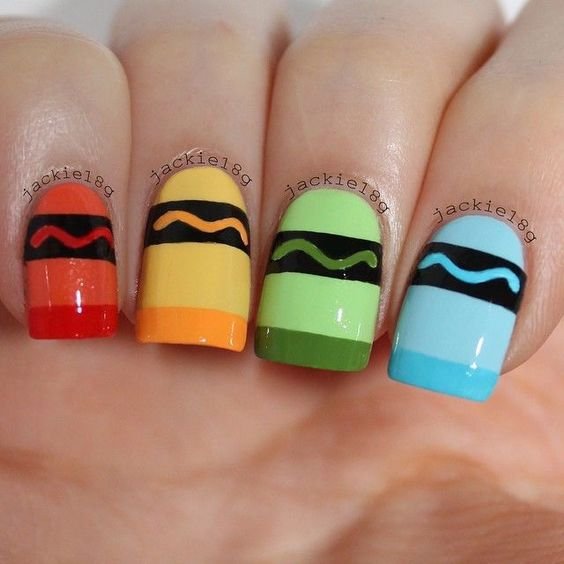 Brighten a dull day back with this crayon inspired mani. You can make lighter colors of your nail polish using white paint so that the tips can be painted in a darker color to highlight the design.
source jackie18g



3. Crayola Nail Art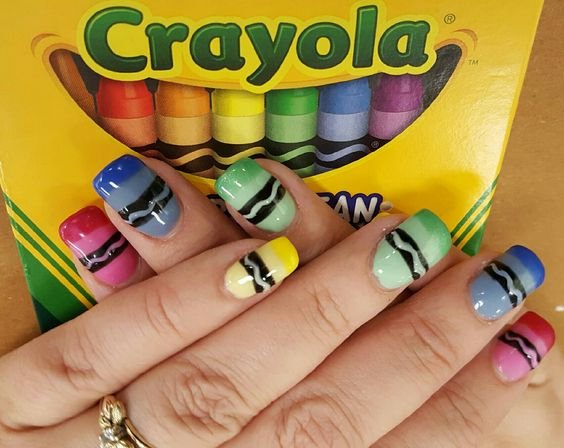 This is one of the best nail tutorials on youtube for that first day back. You will need green, blue, yellow and pink nail polish to complete the look as well as black acrylic paint for the center band.
source youtube
4. Pencil Tips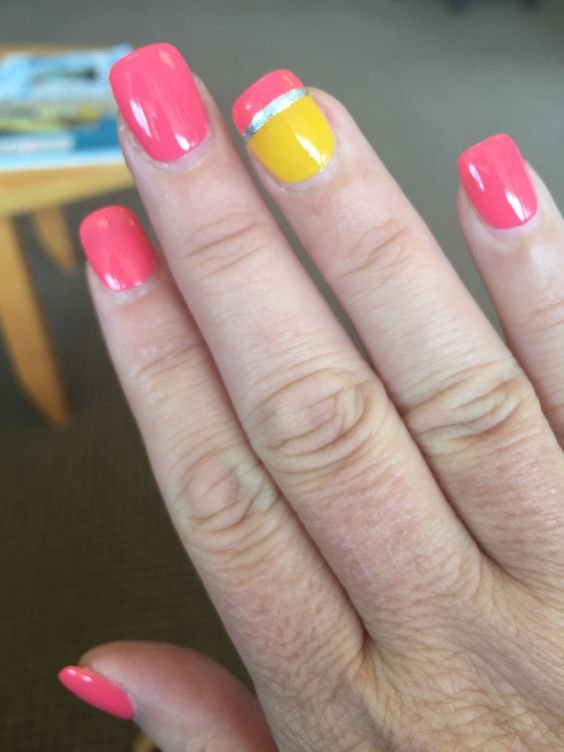 Pink always looks great nails. So make sure you get a good color polish to look like an eraser. Offset this by painting a feature nail just like a pencil in yellow and painting a silver line under the 'eraser' tip of the nail.
5. Apples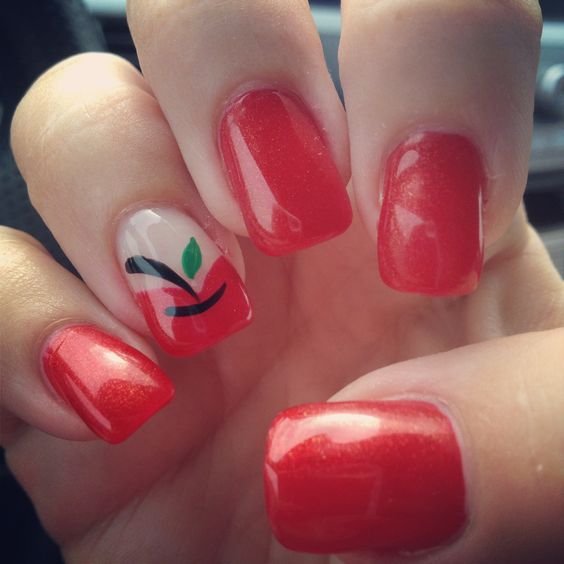 These juicy apples look good enough to eat especially if you team them with actually eating an apple at lunch – if that's too healthy for you then just stick to painting the apple designs on your nails in a bright red nail polish.
5. School Accessories
Mix up your nail designs by painting a school accessory on each nail such as a ruler, an apple, a notebook and a pencil.
6. ABC's
Abc's and 123's get a glamorous makeover when applied to the toes. Use red nail polish on the other nails to set off the look which is great for sandals.
7. Stationery
When it comes to all things academic, of course stationery is a necessity. Copy this clever manicure using fine tipped brushes and acrylic paint to get the finer details included.



source jamylyn_nails
8. Back to School Nail Art Grades
Remind teacher to give you a great grade by donning an A+ on a feature nail. Keep the other nails as plain as possible to really let it shine.
9. Notebook
The classic lined notebook is a great design to wear on nails. Simply paint your nails in a white nail polish and use a fine tipped brushes to add blue lines and one pink down the side. Finish with an apple or an A+ – whichever you like.
10. Pencil Sharp