You may have chosen your costume but don't forget to give your mani a spook-over with these cute nail designs for halloween. Since there are 31 days in October you will get a chance to try them all with every party you go to. With pumpkins, cats eyes, spider webs, tombstones, eyeballs and monsters to choose from , your nails can be the spookiest of them all.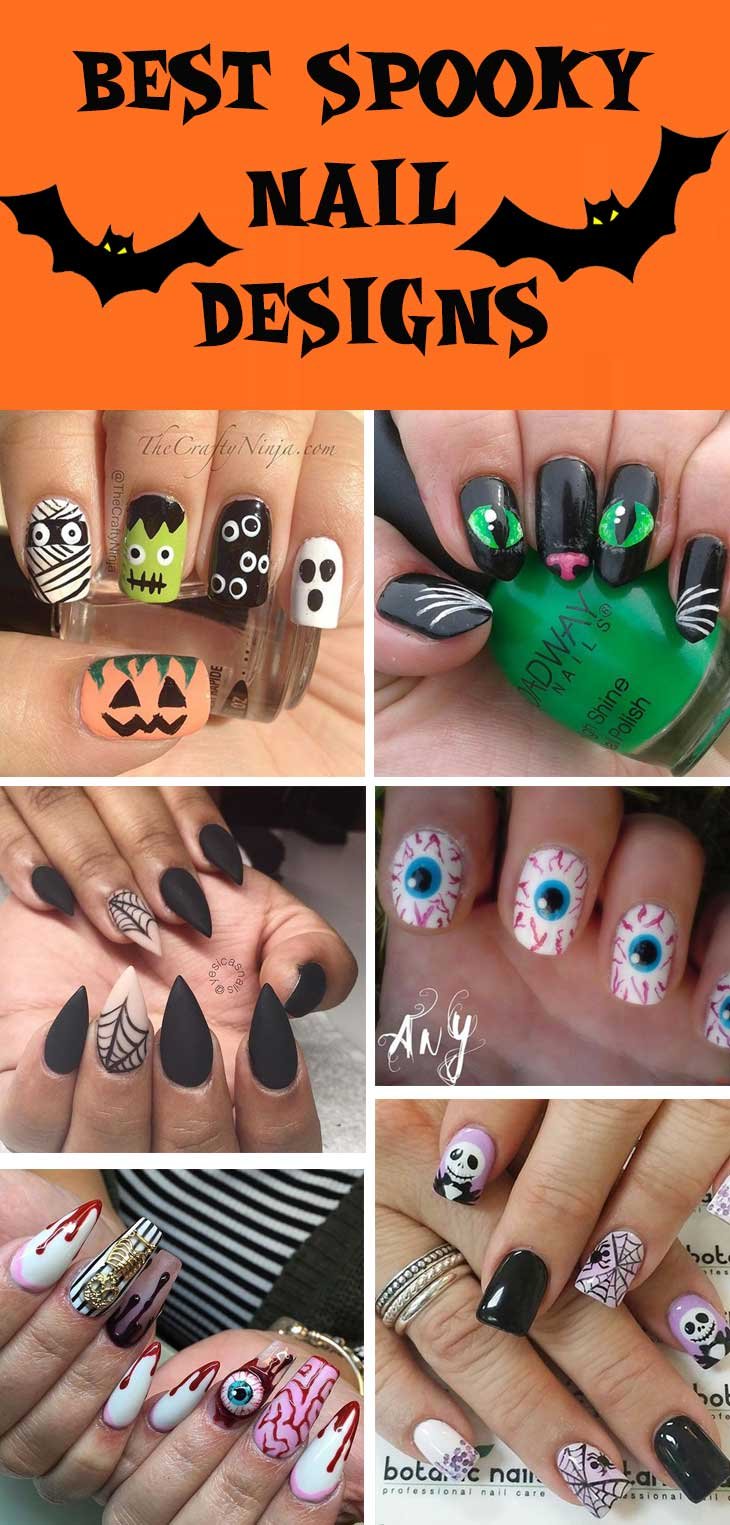 1.Holo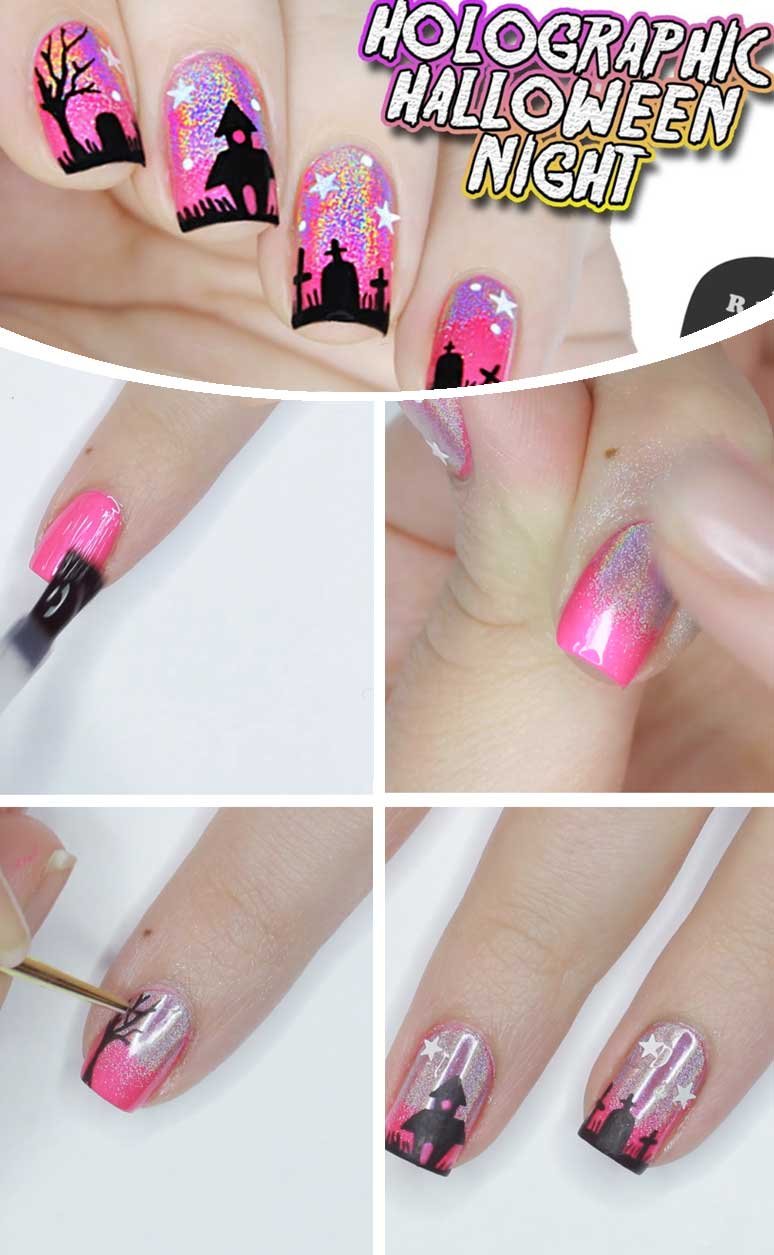 This holographic halloween night nail art is created using holo pigment over a bright pink and the trees are free handed with a fine tip brush and black paint.
source youtube
2. 5 Fun Ideas

If you can't decide between a number of designs – them picking a different one for each nail is totally acceptable too. Or why not pick one design such as the skull with the purple background and use that on all your nails.
source youtube
3. Candy Corn

Paint your nails like the candy with this super cute and sweet nail design.
source youtube



4. Spooky & Colorful

Get all the characters of Halloween onto your talons with this colorful mani. The jack o lantern looks ready to spook the hands of someone.
source youtube
5. Graveyard Ghosts

No Halloween nail art would be complete without featuring ghosts – and these ones look great agains the dark shimmery purple.
source youtube
6. Glitter Bones

If you're looking for a last minute quick and easy glam mani for fright night then this one is ideal and will work great with a sparkly witches outfit.
source youtube
7. Holo Spiderweb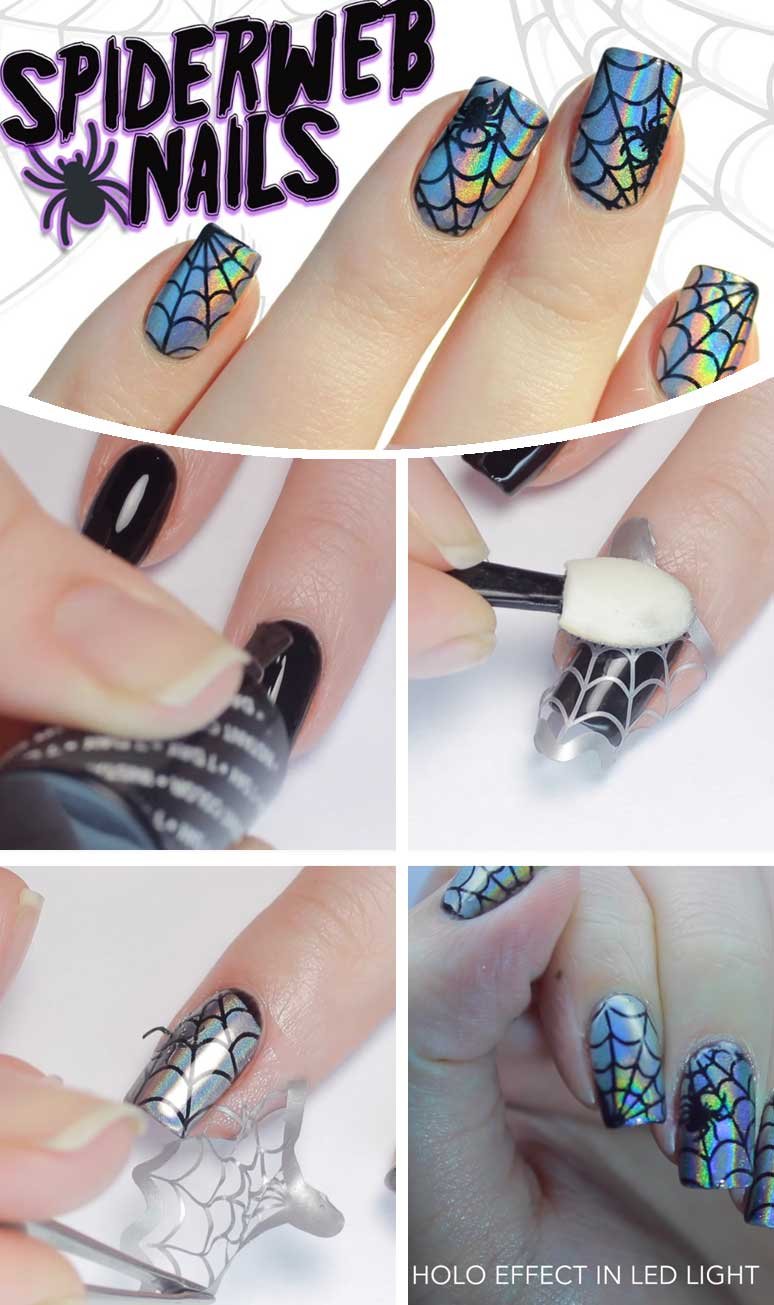 Try these super shiny nails which are achieved with holo pigment powder to bewitch all your guests at the party.
source youtube
8. Jack Skellington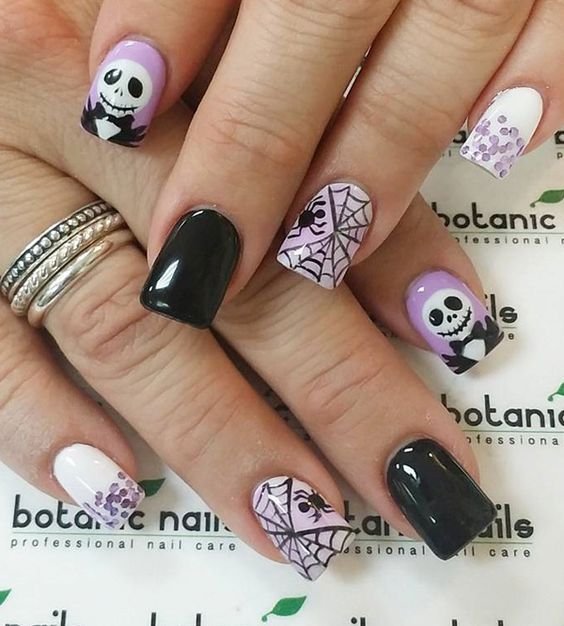 If you're a fan of the film then you will definitely want to gives nails a try.
9. Spooky Eyes

These eyes look like they belong to the cat of an evil witch. Follow the instructions in the tutorial to get your claws into this design.
source youtube


10. Itsy Glitzy Spider

Make a statement with these ombre burgundy nails featuring a delicate little spider and a feature nail bedazzled with glitter.
source instagram
11. Halloween French Tips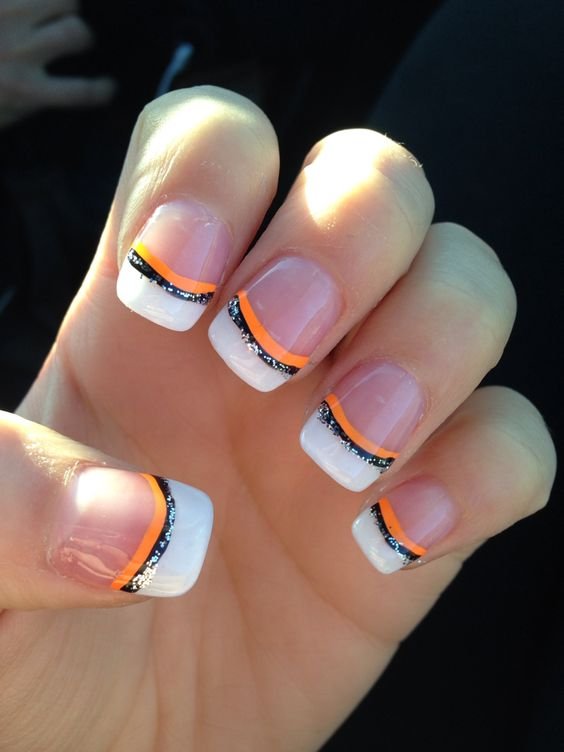 Make a French manicure more spooktacular by adding black and orange thin lines to the tips. This manicure would work all through fall.
12. Glow in the Dark

Light the way for trick or treaters with these awesome glow in the dark nails.
source instagram
13. Orange + Black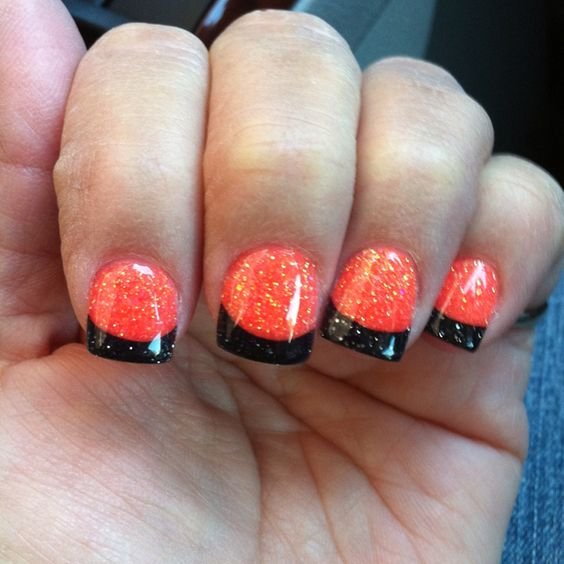 Halloween is a great excuse to get the bright orange and glitter out for nails.
14. Mystic Witch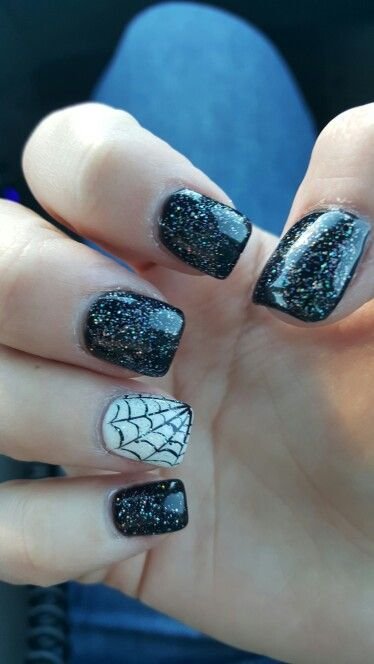 15. Cat Eyes

Black cats remind us of Halloween and witches – this is a very simple design to recreate. You'll need black nail polish as well as acrylic paints in green, white and pink to make this
cat nail art.
source youtube
16. Horror Nails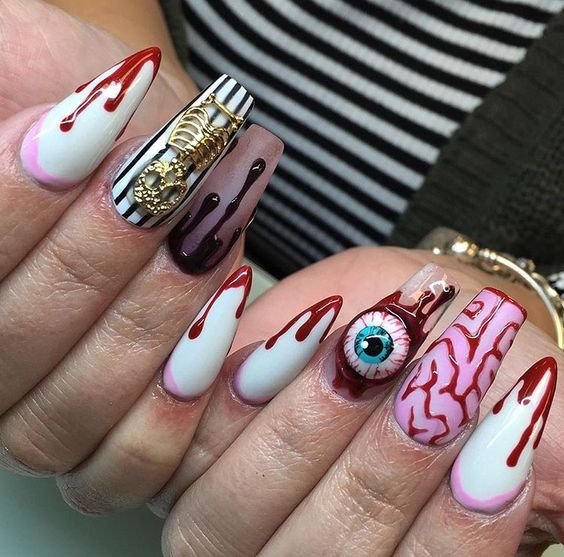 If you want nails that look like they came straight from a horror film – then this is the mani for you.
17. Spider Web

Spooky spiderwebs look great painted on stiletto nails with a matte finish. Take some black matte nail polish for your nails and on the feature nail use this to paint a delicate spider web using a fine tip brush. Wear this with a witch costume to really cast a spell.
18. Tombstone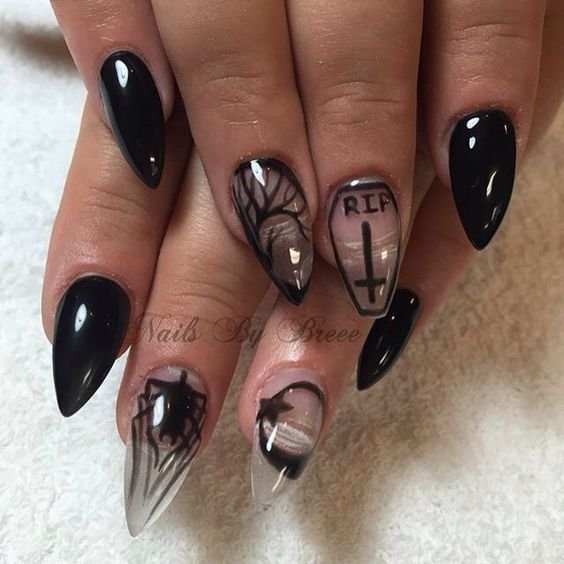 19. Eyeballs

Make sure all eyes are on you with this creepy design.
20. Monsters & Pumpkins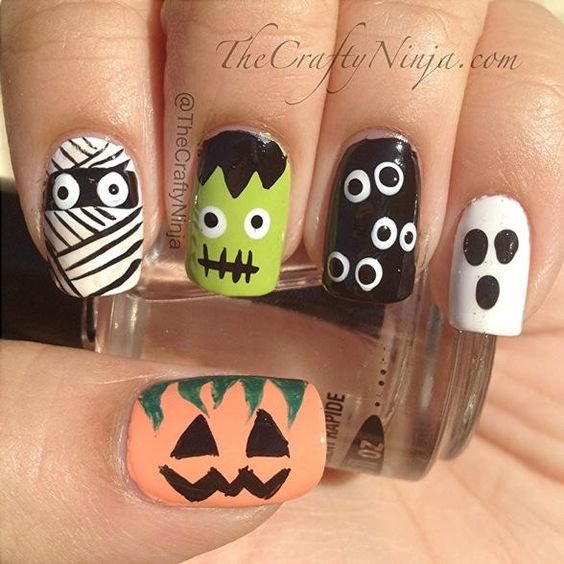 source thecraftyninja