Get ready for the season of sparkle with DIY Christmas Nail Art. Allow your fingertips to shine with these festive inspired manicures. The tree won't be the only thing that dazzles by the time you are finished recreating these looks on your talons.
1. Twinkling Lights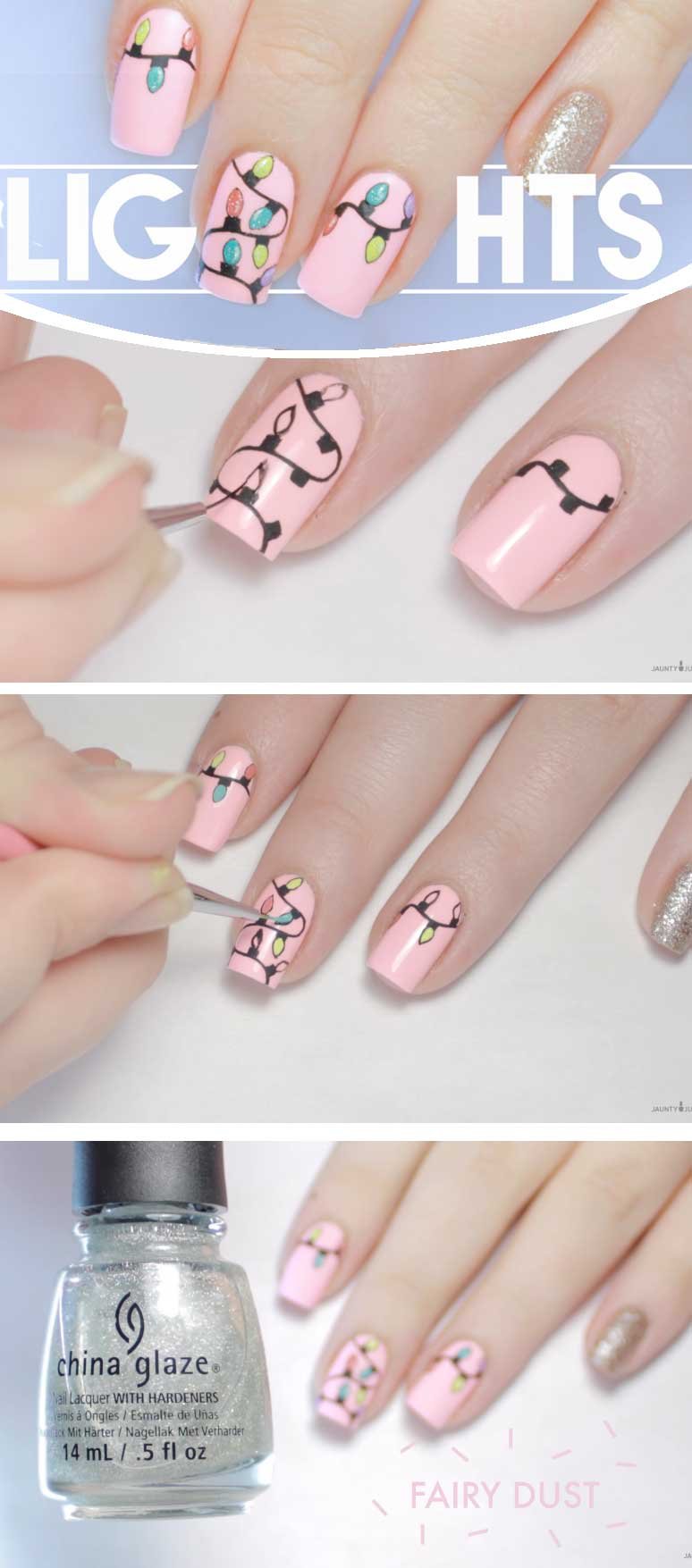 Make your nails delicately sparkle with this magical light idea. You'll need a base coat in pastel pink, a fine tip brush, some black acrylic paint and glitter polish to create the sparkling effect.
source youtube
2. Candy Cane Striped Nails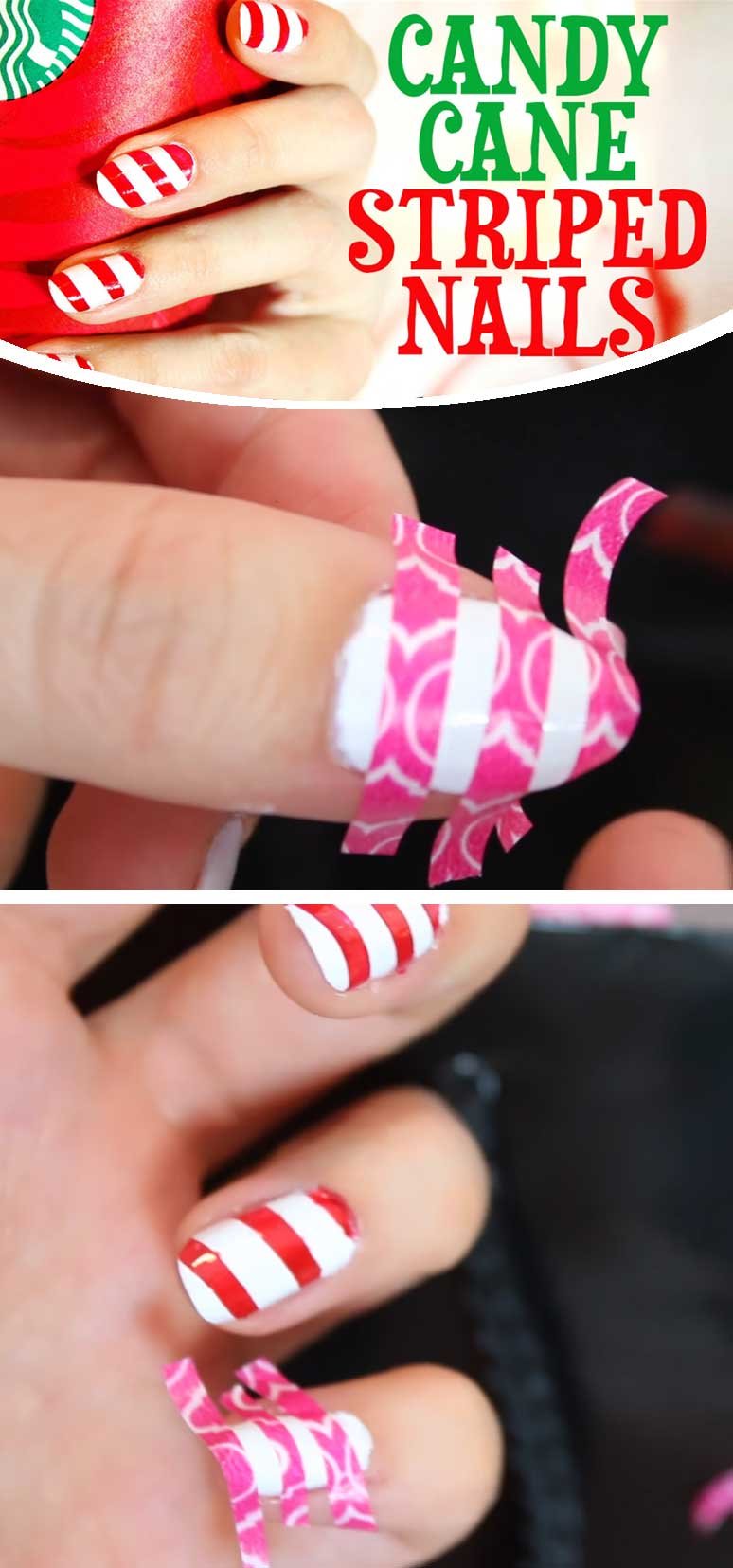 Take inspiration from a favorite Christmas treat that looks so cute on your nails. You'll need some striping tape and a small brush as well as red and white nail polish to paint these Candy Cane Striped Nails.
source youtube
3. Olaf Nails

Paint everybody's favorite snowman on your nails using a dotting tool and a fine tip brish for details.
source youtube



4. Rudolph

What really sets these nails apart is the bling antlers created with tiny golden beads.
source youtube
5. DIY Christmas Nail Art

With a nail stamping plate, chrome powder and sparkle confetti – you can recreate these winter wonderland inspired nail designs.
source youtube
6. Freehand Christmas Nails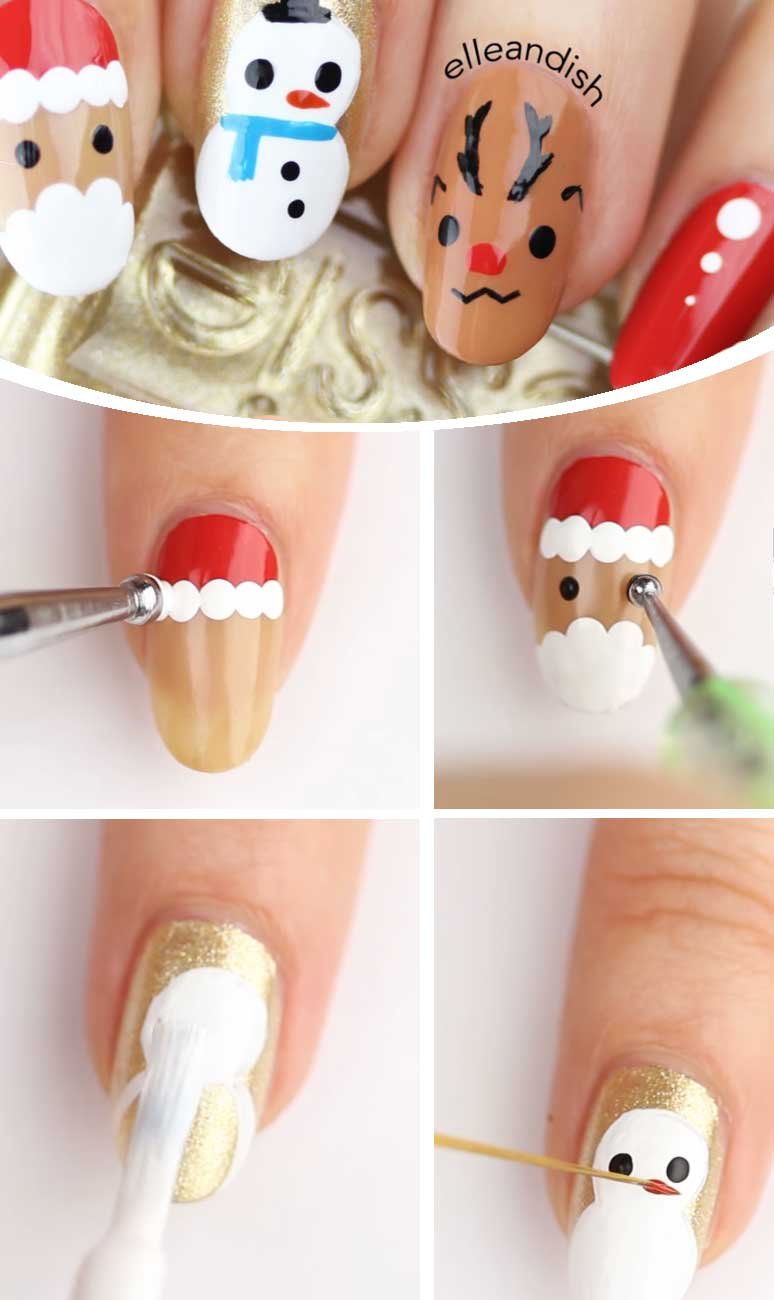 Why choose just one Christmas character when you can have them al on your nails – Santa, Rudolph and the snowman.
source youtube
7. Red Coffin Nails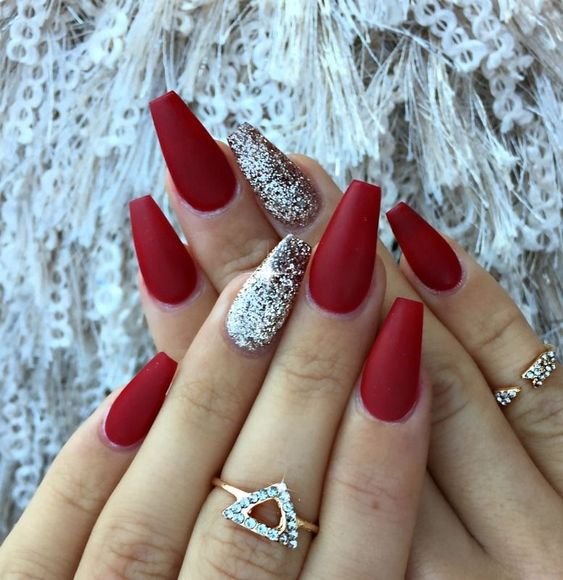 Coffin shaped nails really make an impact – especially when punctuated with a bright red polish to make a statment.
8. Santa Belt

A sweet little nail design that is easy to pull off with just a few nail colors – white, black and red.
9. Santa

This is such a cute design to pop on your nails at your Christmas and if you love Disney you can paint red Mickey ears on a feature nail.



10. Snowman Sparkle

Up the glamour by adding rhinestone to your talons for the parties you will be going to.
11. Snowmen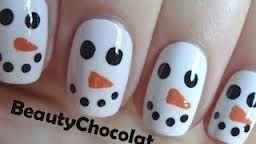 12. Christmas Tree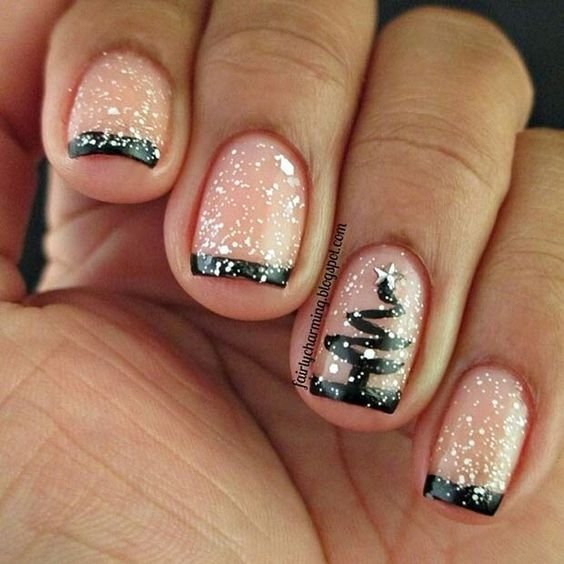 13. Winter Scene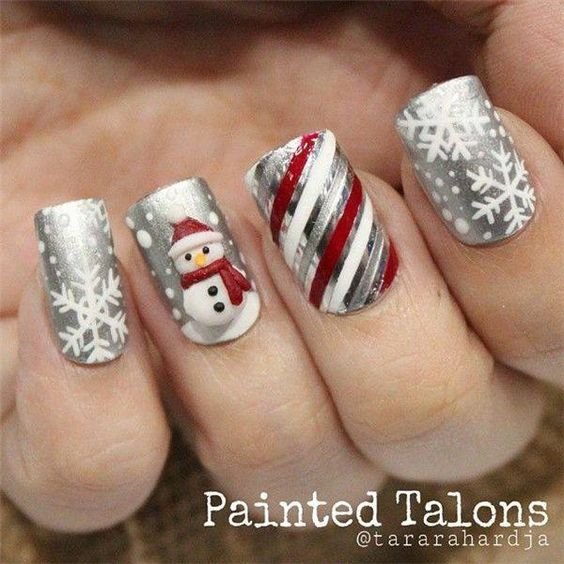 14. Jolly Holly
15. Sparkle Bauble
16. Bows
17. Stiletto Candy Cane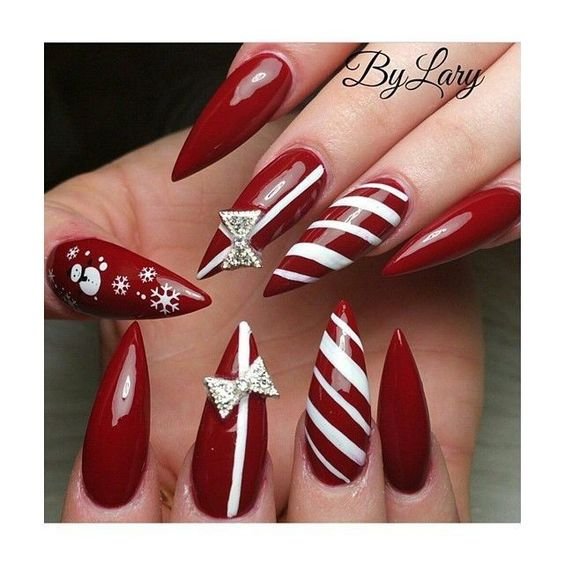 18. Baubles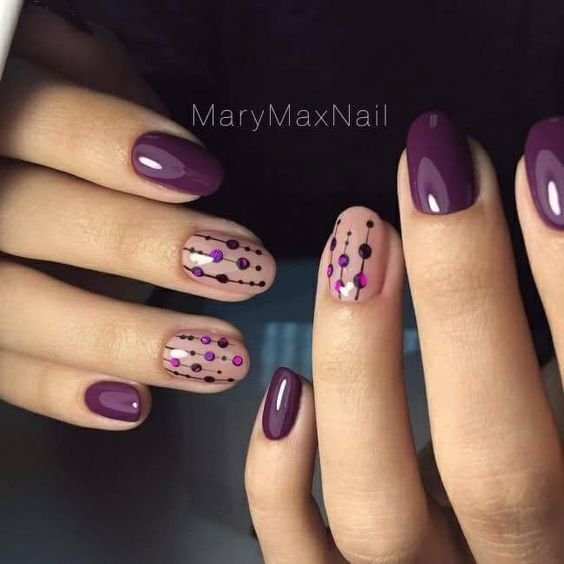 19. Christmas Lights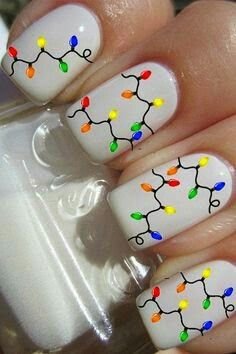 White is the perfect canvas for a simple retro mani like these Christmas lights design. To recreate this nail design – you'll need a white base coat and a black nail art pen to draw the lights. Fill in each bulb using red and green polish and any other colors you want to see in there. These look great with a holiday jumper.
20. Christmas Stocking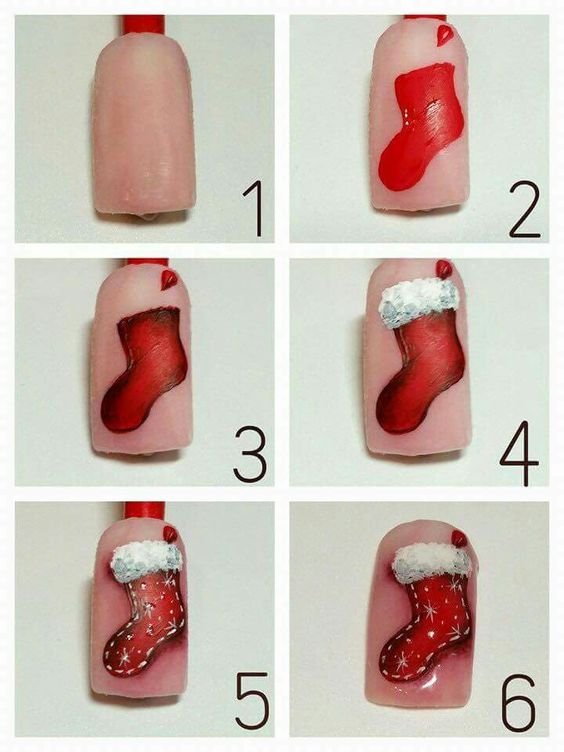 Even if you are too old to have your stocking filled – it doesn't mean you can't recreate the look on your tips. Follow this step by step to show Santa you still love the season.
21. Festive Colors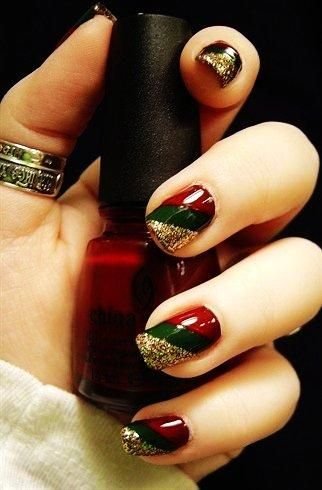 If you don't want to go to over the top with your holiday manicure – you can always incorporate the colors red, green and gold on your nails.
22. Nightmare Before Christmas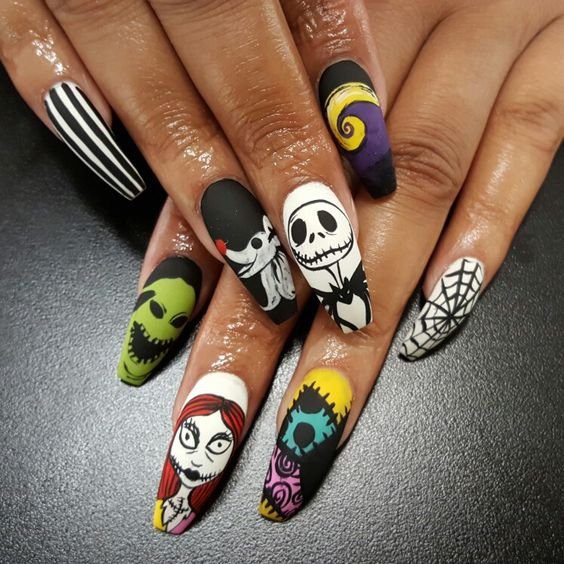 For those that want to nod to Halloween but get away with it at Christmas – then this is the mani for you.