Jack Skellington Baby Shower Ideas are perfect to Welcome your little nightmare into the world. Obviously it's a great theme if your baby is due during Halloween (Halloween just wouldn't be the same without Jack Skellington) or if you just happen to be a huge Tim Burton fan. You'll need black and purple decorations, some fun Nightmare Before Christmas party favors. You can make cute lanterns using white and black as your base and a stencil for the face. Additionally you can try out these Halloween Hacks to make life a little easier during the season.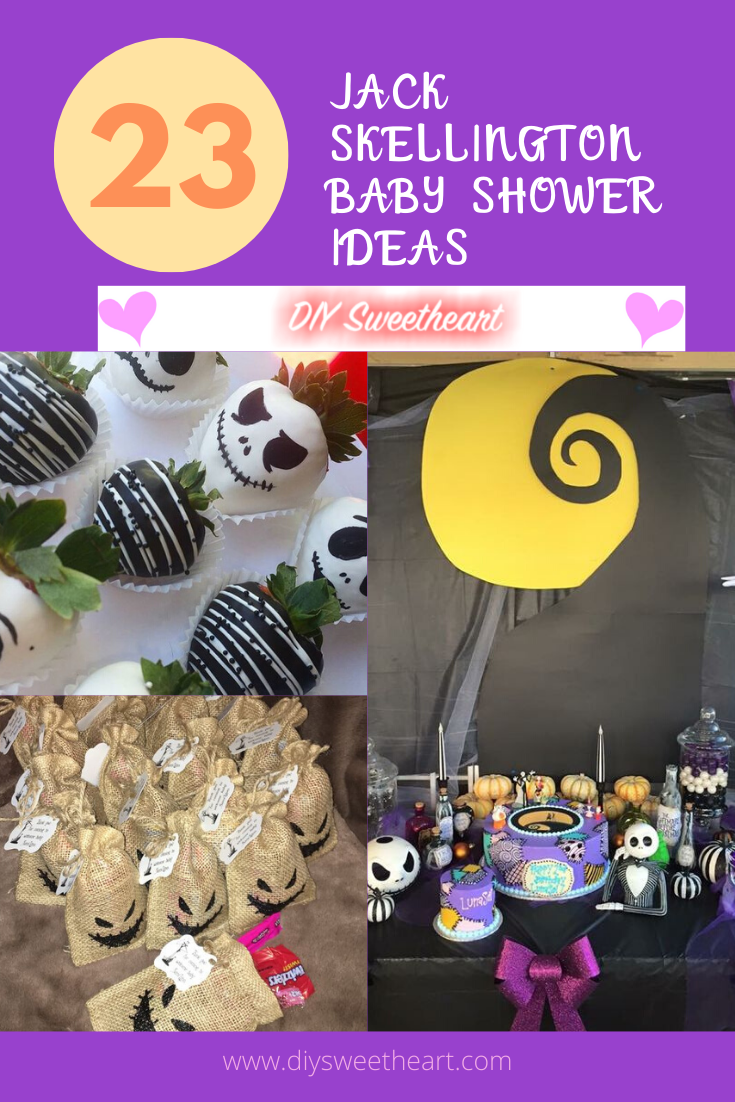 1. Dessert Table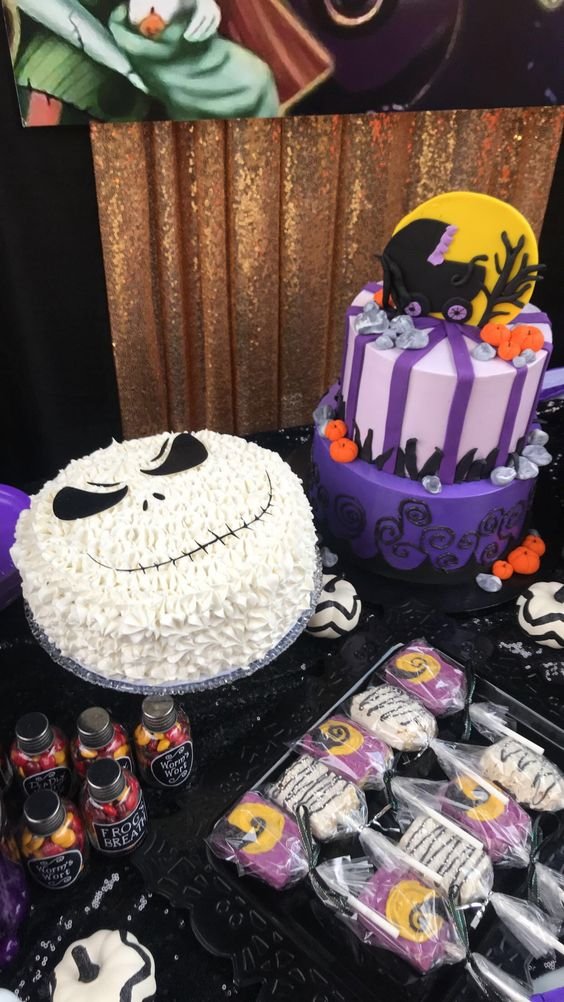 Setting up a Jack Skellington themed dessert table is an easy way to add a touch of Halloween whimsy to any party. Incorporate purples and golds for the backdrop and tablecloth. Set the scene with a Jack Skelington cake and matching cake pops. Add candy to jars labeled with "Frog's Breath" to mimic the potions Sally conjures up in the film.
2. Drinks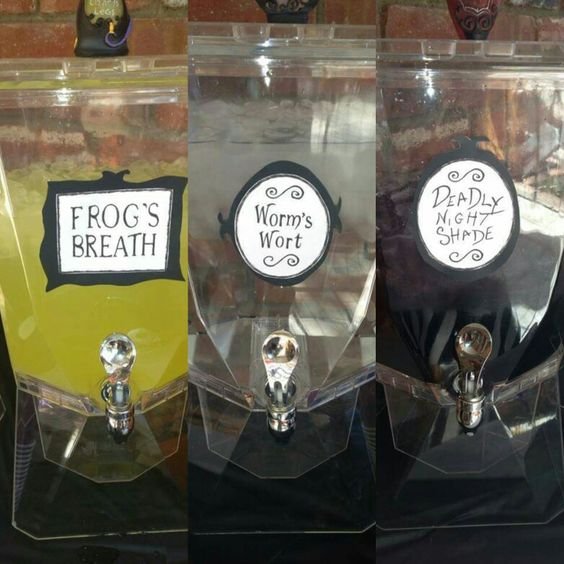 Keep guests hydrated with some delicious NBC themed punch. Purchase punch jars and fill them with drinks of your choosing.
3. Jack Skellington Centerpiece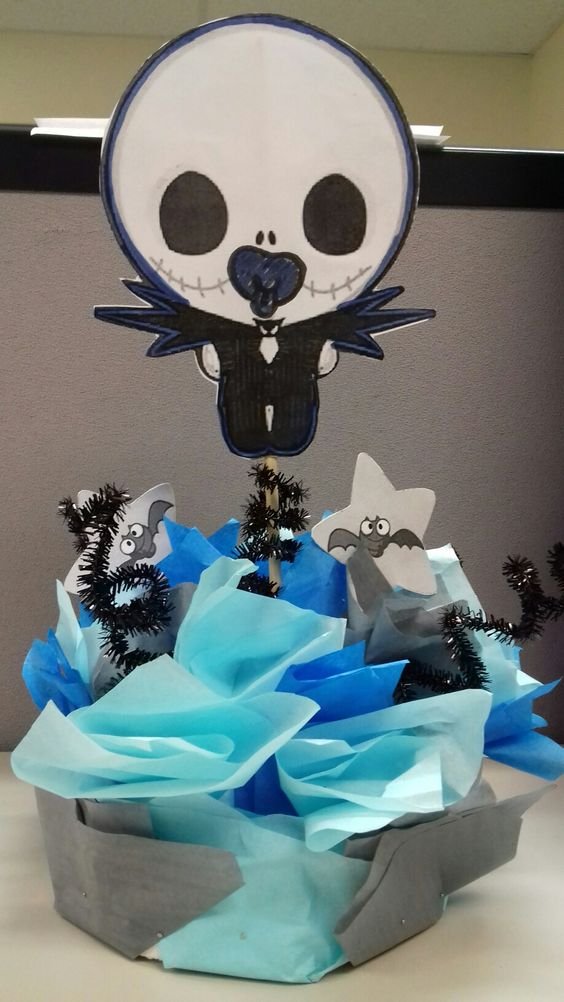 One of the most important aspects of any party decoration is the centerpiece. Luckily, a Jack Skellington centerpiece is easy to make and will perfectly tie in with the rest of your Nightmare Before Christmas themed decorations. Start by finding layering light and dark blue tissue paper and glue a Jack Skellington cutout inside this.
Nightmare Before Christmas Baby Shower
We have included this video tutorial from Between The Magic to show you how they decorated for their Nightmare Before Christmas Baby Shower.
4. Bowl Centerpieces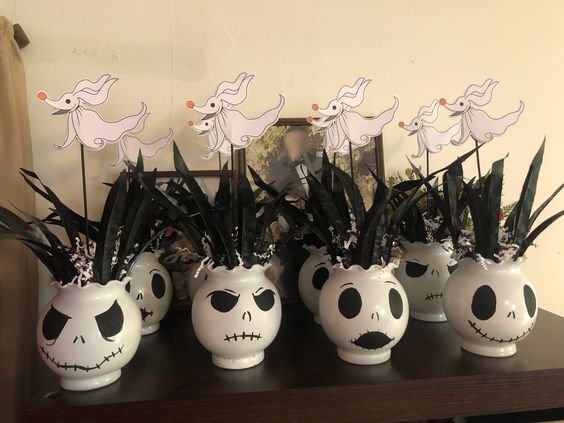 It's relatively easy to make these centerpieces using glass jars and paint once dry you can fill with anything.
Purchase a fishbowl that will serve as the base for your centerpiece. Paint it white and add the face. Next,add some cutouts and black feathers inside.
5. Black and Purple Decorations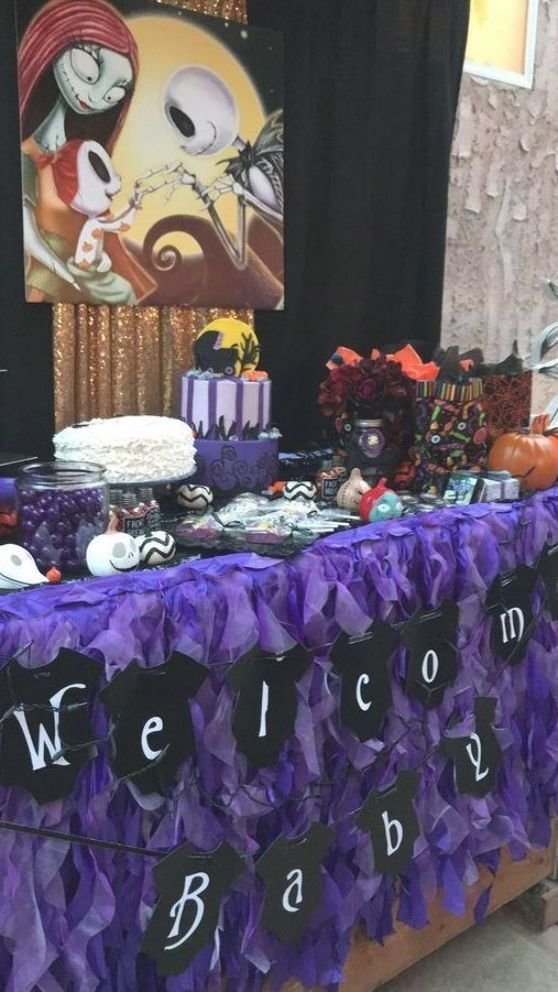 Set the tone with black and purple decorations. Print out a picture from the movie to use as part of the backdrop. Incorporate little pumpkins to honor the Pumpkin King himself.
6. Spiderweb Tablecloth

To complete the eerie ambiance for your Jack Skellington baby shower, consider adding a spiderweb tablecloth to your decor. This simple touch can tie your theme together and provide a spooky backdrop for your feast.
7. Jack Skellington Treats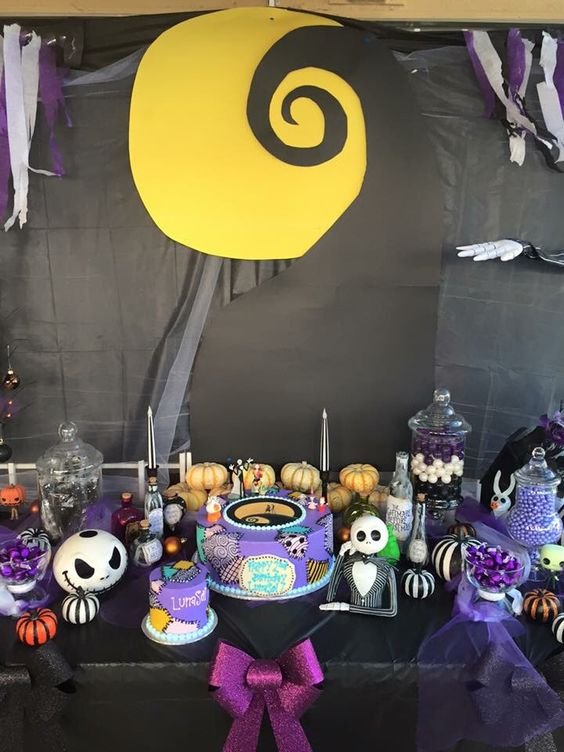 Greet guests with this delicious dessert table which includes, candies, cakes and all sorts of treats to keep guests sweet.
8. Corsages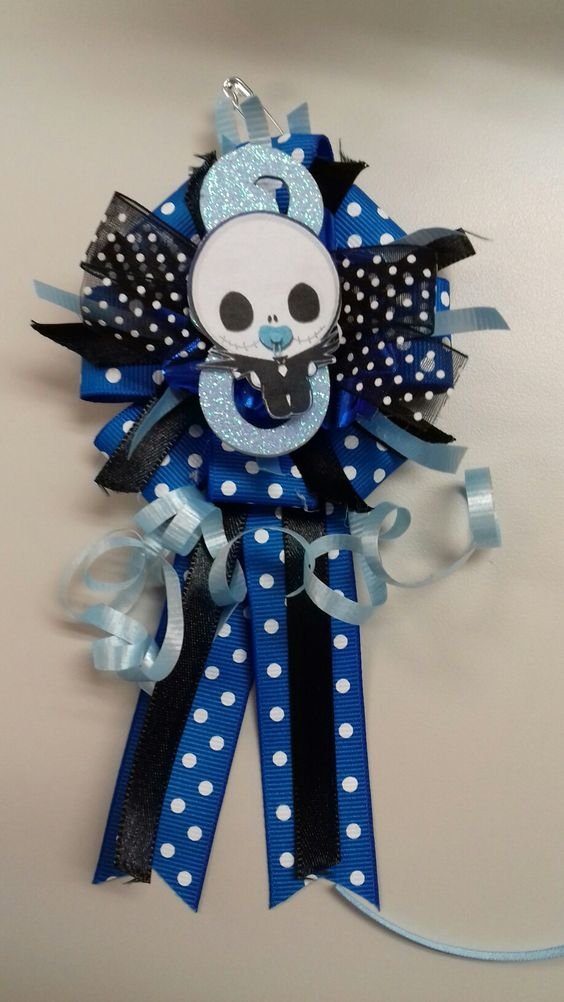 Don't forget to include corsages as appropriate.
9. Themed Fruit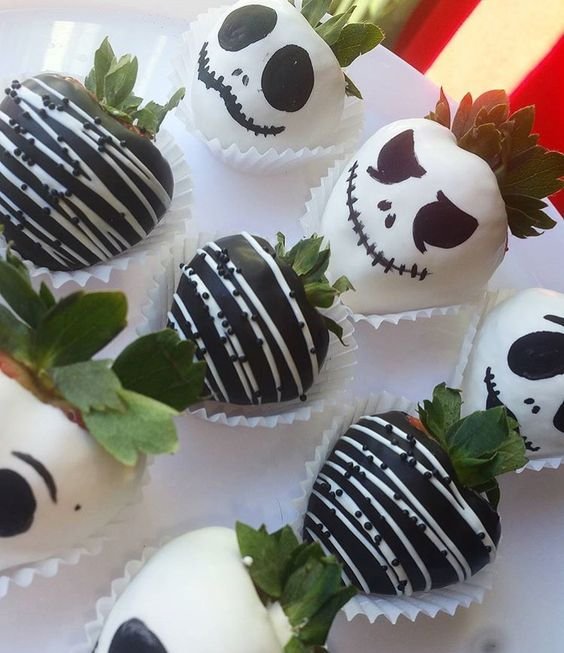 Transform strawberries into the pumpkin king using black and white candy melts.
10. Black and Purple Balloon Arch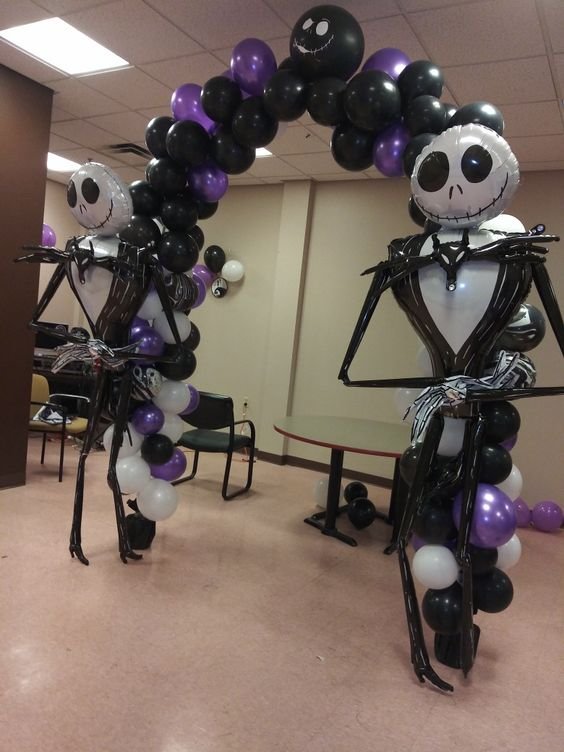 To add some drama and dimension to your Jack Skellington baby shower, consider creating a black and purple balloon arch. This project will make for a stunning photo backdrop that will capture the essence of the beloved Halloween character. You can create a simple arch using black and white purple latex balloons, or incorporate some themed balloon designs for added flair. Once your arch is complete, you'll have a beautiful statement piece that will tie your decorations together seamlessly. Balloons are such a simple and inexpensive decoration, which can make your party really stand out – especially when you have a life sized version of the pumpkin king.
11. Cupcake Stand

This Cupcake Stand is easily made using Foam core boards, card , and led lights. You can free hand the swirls on the foam board and then cut once you are happy with the shape.
12. Cupcakes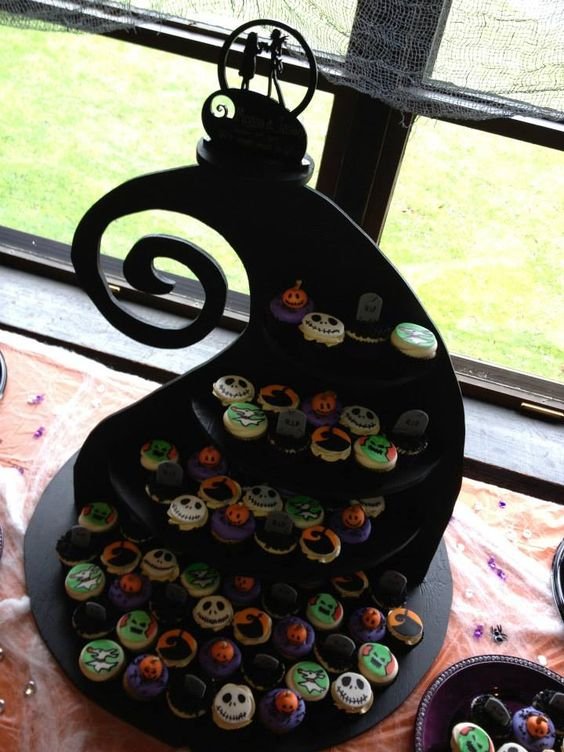 For the perfect Tim Burton inspired treats – try these cupcakes. You can use edible markers to draw the details onto pre-made cupcakes.
13. Coffin Shaped Diaper Cake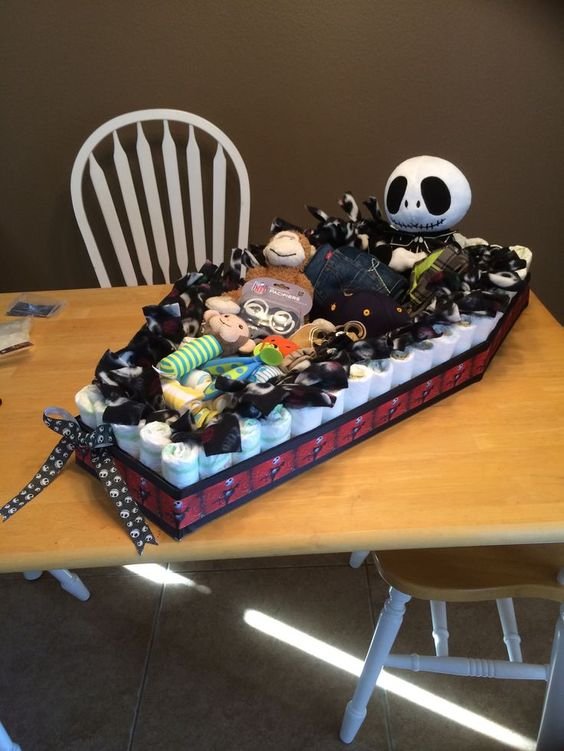 Make this Coffin Shaped Diaper Cake using cardboard and hot glue. Finish by adding a little soft toy of Jack Skellington.
14. Oogie Boogie Gift Bags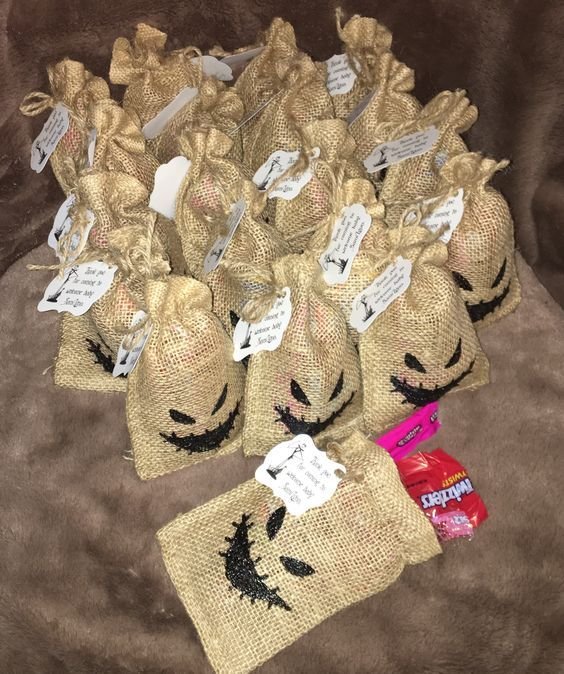 Simple burlap favor bags are transformed into Oogie Boogie gift bags with the aid of a stencil and then fill them with bug candy.
15. Black and Blue Centerpieces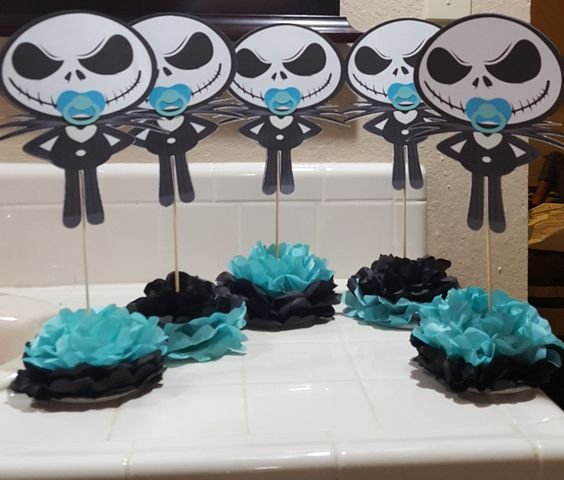 For a boy shower, something like this would be easy enough to make with some black and blue tissue paper.
16. Card Boxes

Make this for guests to put cards in using three different sized cardboard boxes.
17. Diaper Cake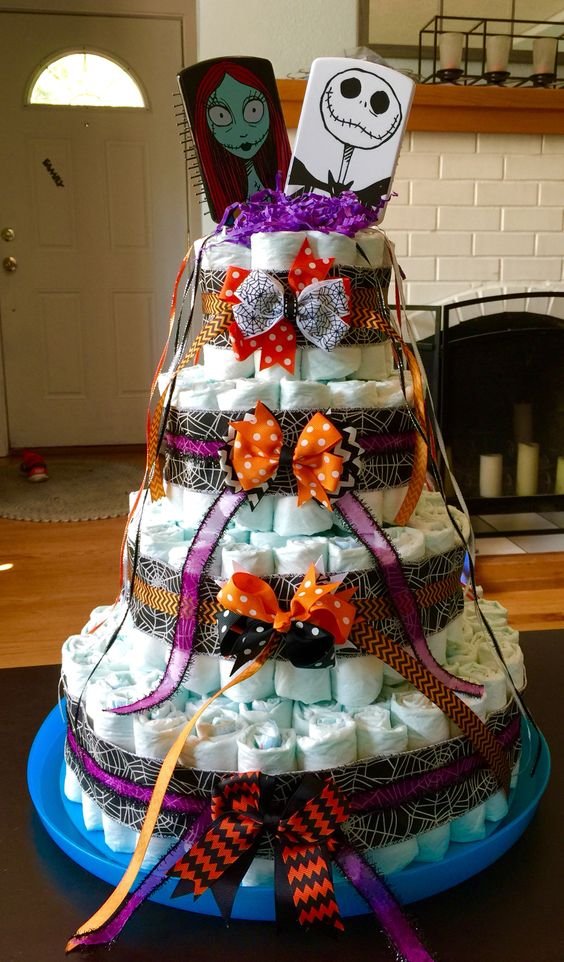 The supplies to make this diaper cake include diapers, ribbon , paper towel tubes, scotch tape, straight pins, hot glue and hot glue gun. You can change the colors to suit the theme and put what you like as the topper – here they've used hair brushes.
18. Streamers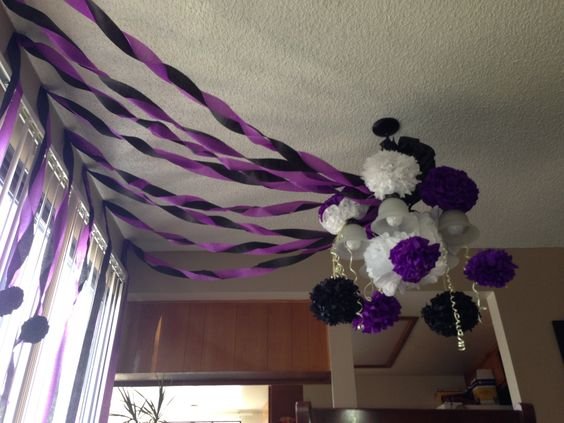 Black and purple decorations are a must to carry off this theme successfully.
19. Jack Skellington Lanterns

Ward off the darkness with these super cute Jack Skellington lanterns. Simply purchase plain white lanterns and then cut out features such as eyes and mouth from black card.
20. Sweet Topiary

Use black and purple lollipops which are place into a round foam ball to make this sweet topiary.
21. Black Tree Centerpieces

For a fun and personalized touch, create some Black Tree Centerpieces by painting mini trees black.
22. Belly Cake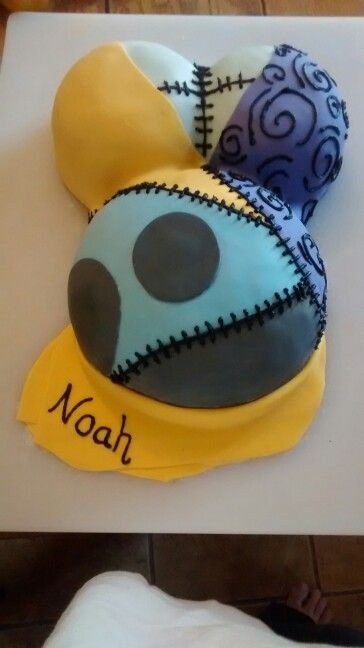 This belly cake is perfect for a NBC baby shower.
23. Black and Purple Table Decor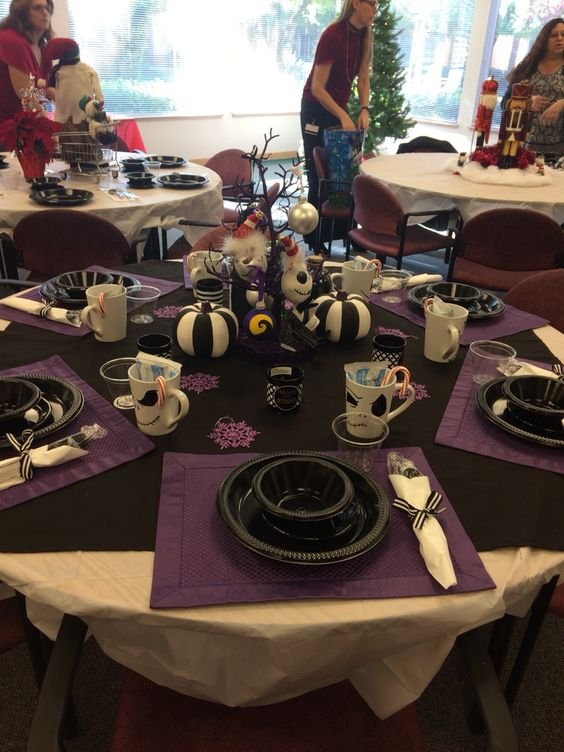 For table decorations – think of using Solid Black or a Striped Tablecloth with themed centerpieces.
24. Spooky Candy Bar
25. Filled Vases