Pedicures are a great way to draw attention to your feet. In addition to making you feel pampered these Summer Toe Nail Designs are sure to look great in your favorite open toe shoe. Express your personality and playful side by painting your toes in your favorite patterns and colors. From vibrant and bright colors to dreamy pastels, you are sure to find a style that suits. Get creative with fine tipped brushes and dotting tools to really make your designs stand out. Check out these ideas for inspiration.
1. Sparkly and Pink Flower Design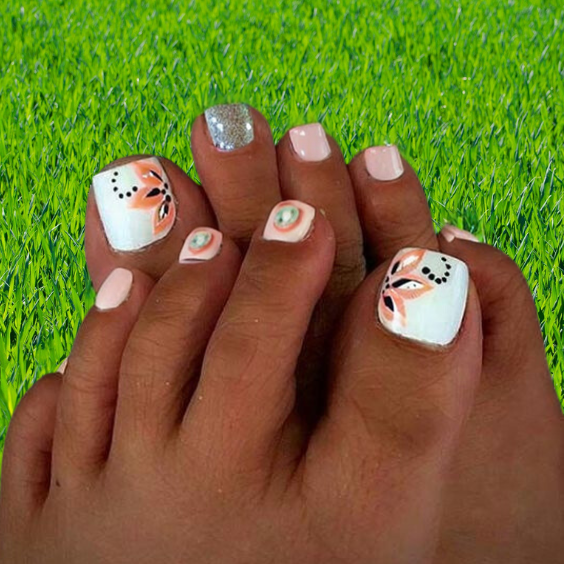 Light pink and sparkly silver nail polish is the perfect combination for summer toes.
2. Neon Pink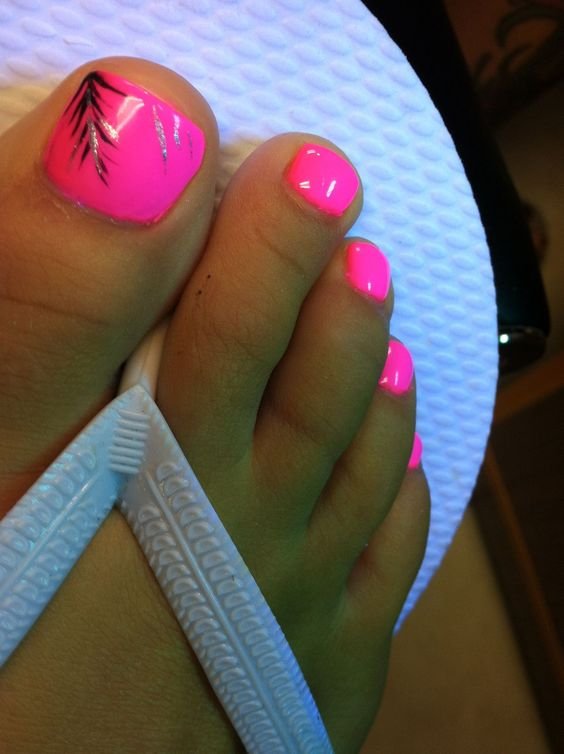 Using silver and black nail polish you can customize your big toe to give it a different look. They will look stunning. Neon shades are perfect for summer. The vibrant pink makes this nail design perfect for long summer nights after a day at the beach.
3. Blue Ombré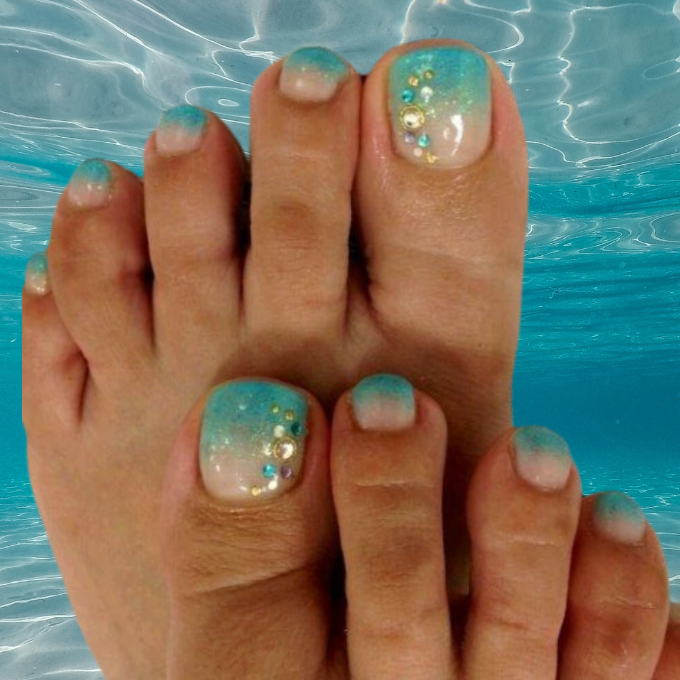 With shades of blue nail polish on a white background, it's easy to see why ombre nails are so popular right now.



4. Teal Blue
Once again we have the feather design on the big toe – a great look for a mermaid style pedicure. Paint your nails with a shade of blue and use acrylic paints and a thin brush to make the feather design.
5. Vintage Roses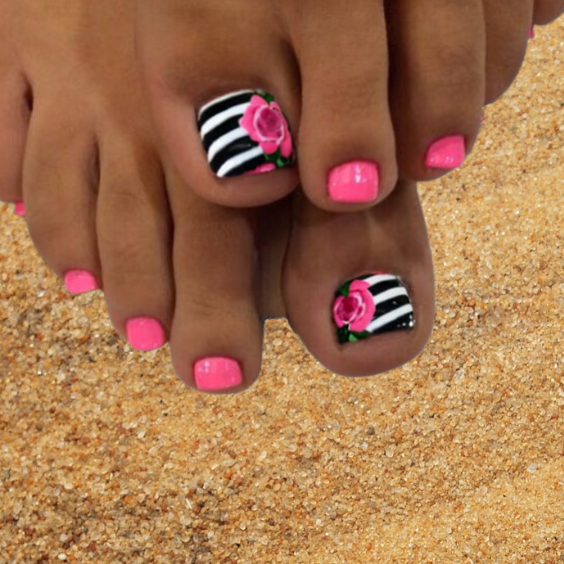 Switch up a plain pink nail design by adding a feature toe which has black and white stripes and a pretty pink rose.
6. Deep Blue
Wrap your nails in a look of mystery with this shade of deep blue. With a dotting tool you can make a stunning design that can be finished with pretty rhinestones.
7. Orange & Green Abstract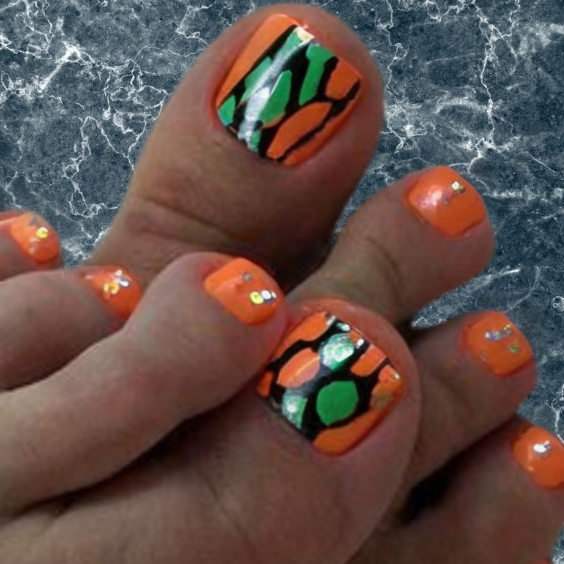 An abstract design is easily created by free handing graphic shapes on your big toe.
8. Neon Green & Silver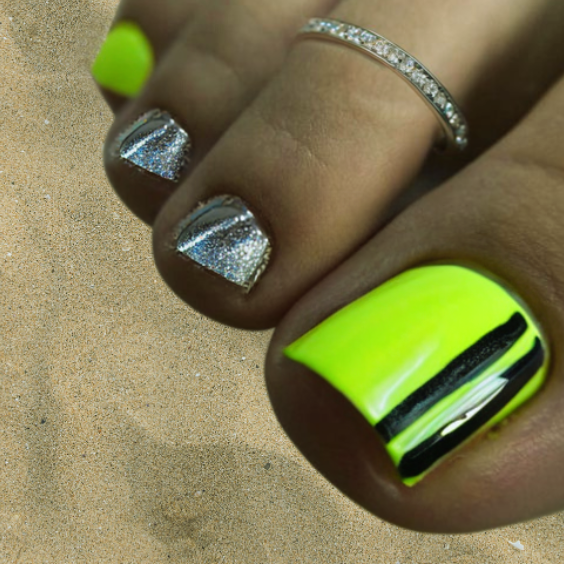 Neon colors practically scream summer. This pedi incorporates the brightness of neon green with the cool tones of silver.
9. Black & Gold

Grab some of the limelight with your toenails painted in black and gold. Add little studs on one or two other toenails to really heighten the glamour of this look.
10. Bright Red

Reds look great on your toes in summer as the color goes with most outfits such as denims or a nice black dress for example. Complete the look by painting a delicate white flower on the big toe using white acrylic paint and a fine tip brush.
11. Light Pink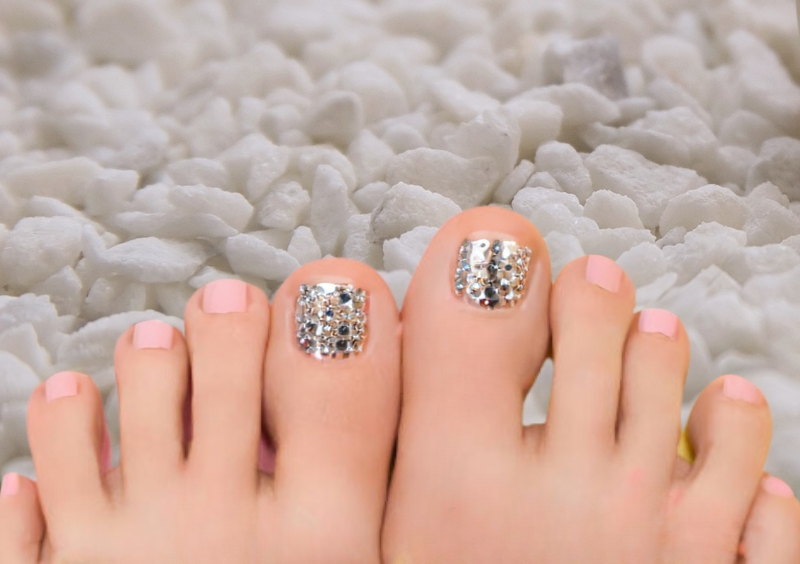 Add some sparkly glam to a pink pedicure by using glitter on the big toe.
12. Baby Pink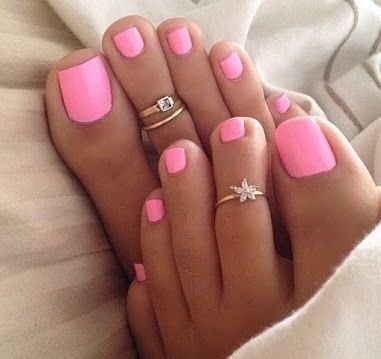 Baby pink is not to be missed for summer pedicures. Though it's a classic, it's still adored by many and helps to remind our toes that summer is finally here.
13. Swirls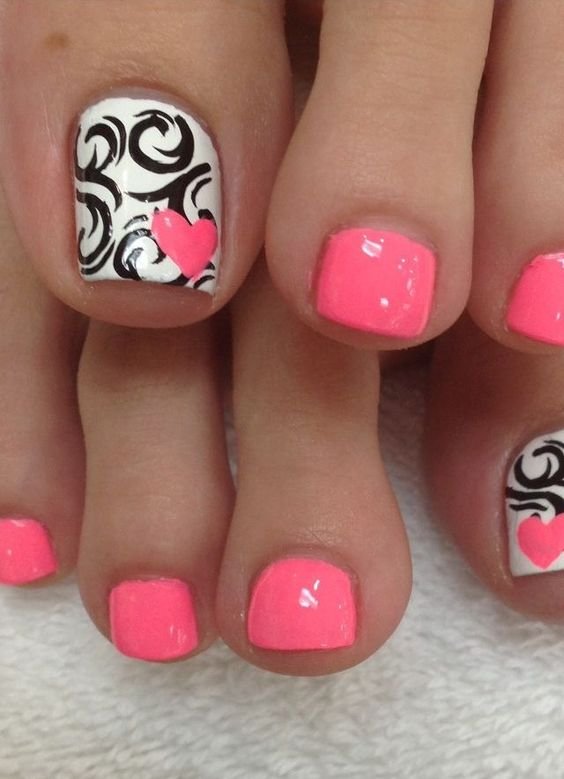 Get creative with your nail designs by painting black swirls on the big toe accented with a hot pink heart the same color as the other nails. This design is so versatile you could use any variation of colors that suits you best.
14. Stripes

Stripes just say nautical and everything to do with the sea. The coral combined with white stripes and a cute little heart on the big toe make this a perfect look for catching waves with your friends.



15. Fresh Green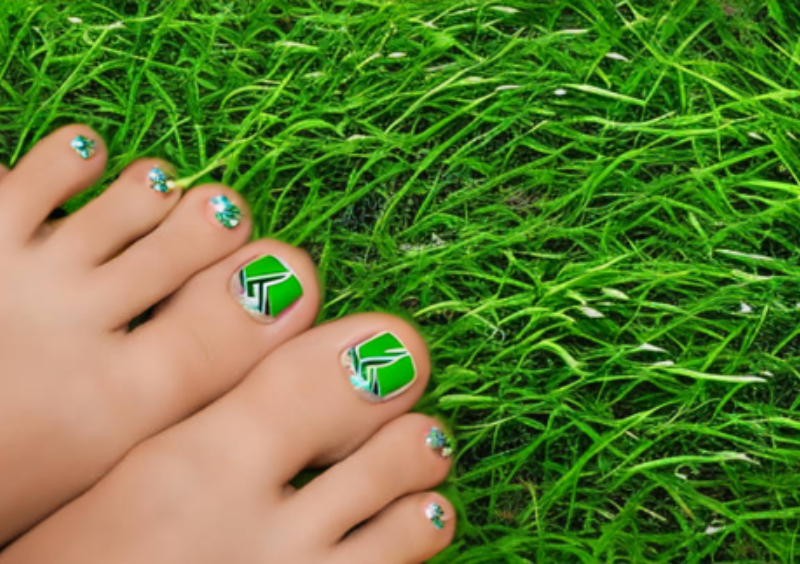 This pedi provides an earthy yet classy look that can be worn from day to evening. It would look great with any open toe shoes.
16. Tropical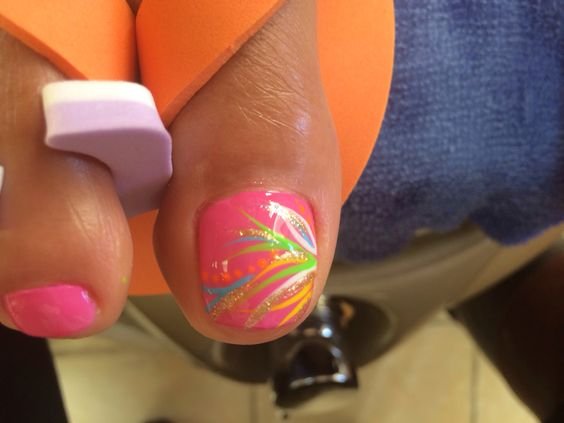 Even if you can't afford that vacation to a tropical island, it doesn't mean your toes have to suffer. With a hot pink background create a beautiful tropical design using different colored nail polishes such as golds, greens, blues and yellows. Take inspiration from tropical birds and cocktails to recreate this design on your nails.
17. Sequin Fun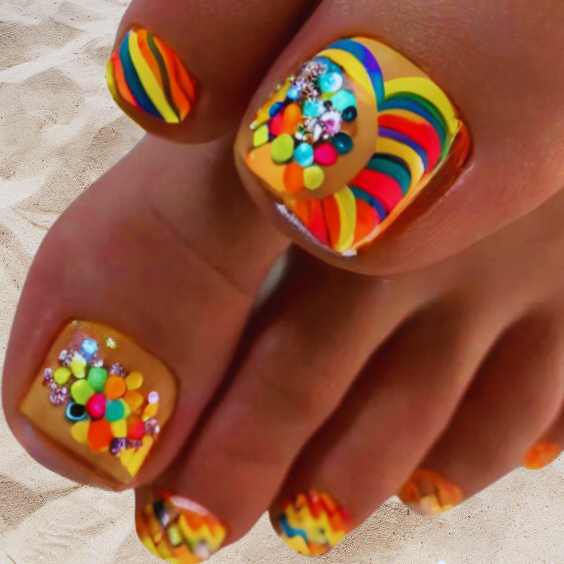 This pattern on the toe is sure to make everyone's eyes sparkle with summer cheer. The luminous colors are arranged into beautiful patterns for a look that screams summer happiness while the sequins add intrigue.
18. Palm Trees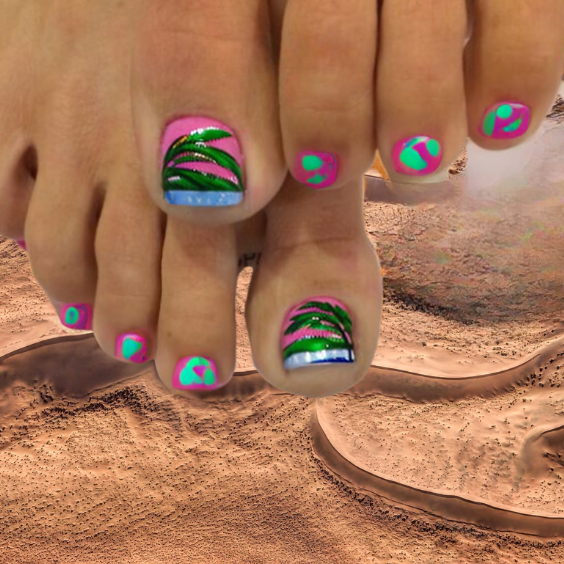 Team hot pink nail polish with an abstract palm tree on the big toe nail.
19. Anchors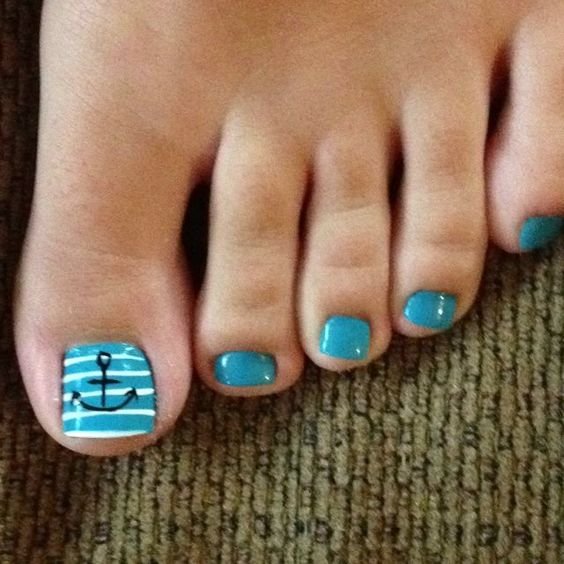 Paint your toe nails in the color of the ocean
20. Bright Pink
21. Funky Toes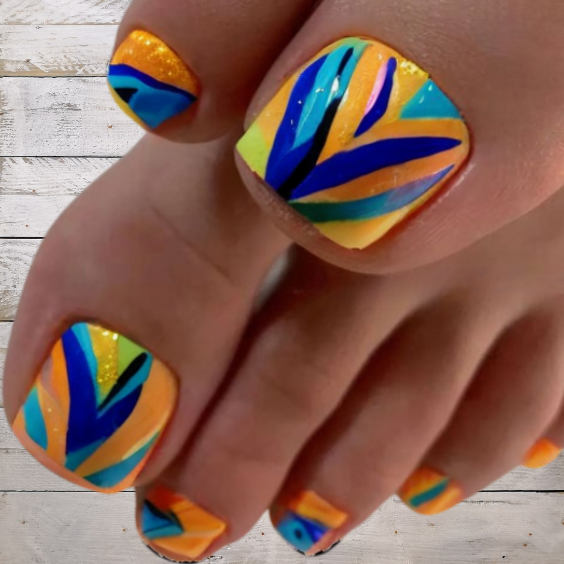 Use several different colored nail polishes to create a funky design on your nails.
22. Orange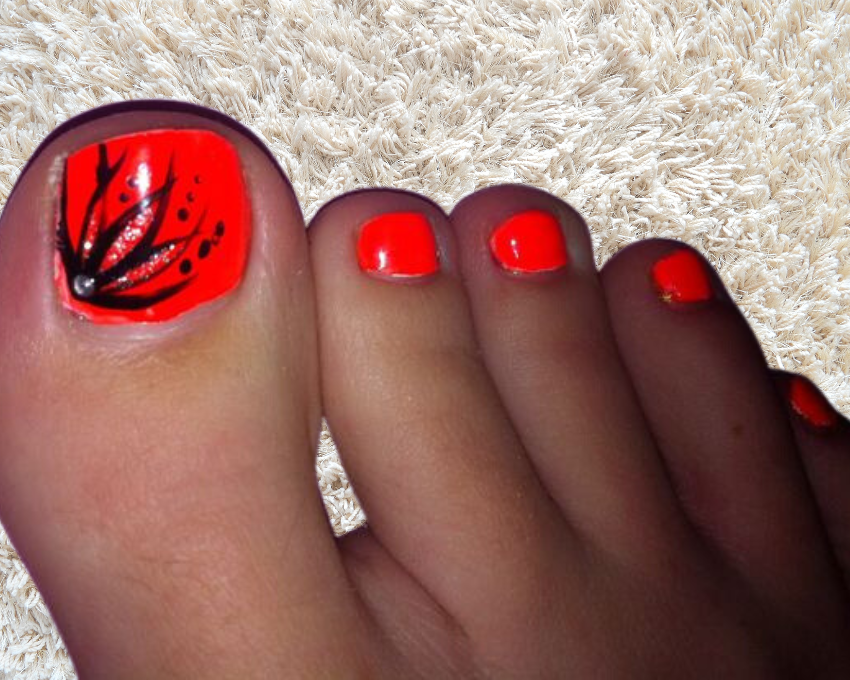 Check out these Fall Nail Art Ideas