As the winter draws in, you will want to make your home as bright and cheerful looking as possible to reflect the sparkly festivities that Christmas brings with it. It is possible to DIY Christmas Decorations that will make your home dazzling. Plenty of fairy lights and brightly colored ornaments will help to transform your yard and porch into cozy nooks to welcome guests. So take inspiration from all these wonderful outdoor decorating ideas for the season of being merry.
1. DIY Giant Lollipop

These pool noodle lollipops are super easy and inexpensive to make. Purchase Pool Noodles in festive colors like red or green and use White Masking Tape to wrap around them and look like peppermint.
Instructions DIY Giant Lollipop


2. Plastic Cup Snowman

This is a really inexpensive and easy outdoor snowman decoration to make – simply staple approx 300 Plastic Cups together and add decorations. Once assembled you can add lights and set outside to add some cheer to your porch.
Instructions Plastic Cup Snowman
3. DIY North Pole Sign

Bring some magic to the yard for the kids with this awesome north pole sign. You'll need a PVC pipe that's 2.5cm in diameter and a plastic globe which you can find in any lighting store. Red masking tape creates the stripes and you could even add fairy lights for extra enchantment.
Instructions DIY North Pole Sign



4. Giant Fake Cupcake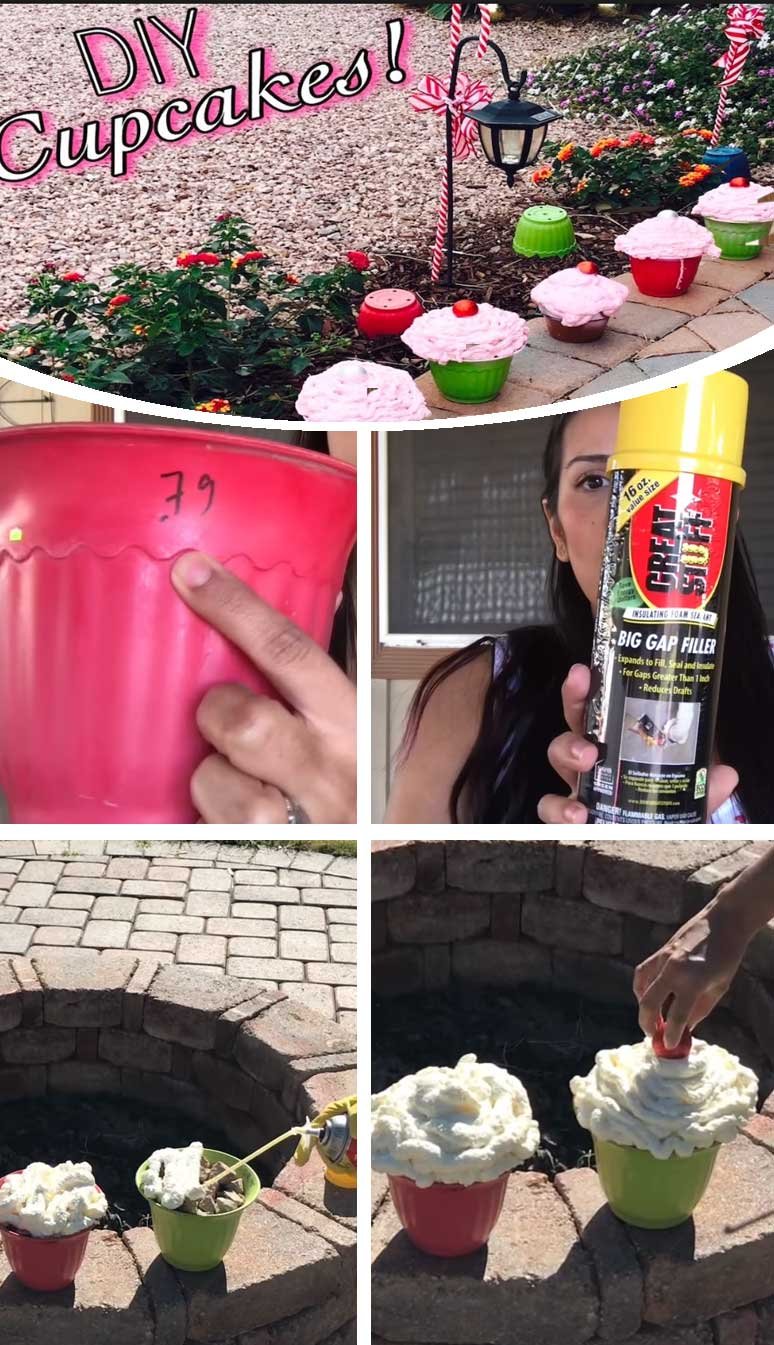 Perfect for a Candyland Theme, these decorative cupcakes would also work great for birthday parties as well as baby or bridal showers. Begin with a decorative plant pot and fill with a weight like small rocks. Then spray with expanding foam for the texture of frosting and add a red bauble for the cherry.
Instructions Giant Fake Cupcake
5. DIY Nutcracker Soldiers

Make these life size Nutcracker Soldiers for approx $50. You'll need spray paint for plastic in Black, Blue, Red, Yellow and Skin Tone. Other supplies include a plastic flower pot as well as pvc pipes and gal buckets.
Instructions DIY Nutcracker Soldiers
6. DIY Candy Cane Solar Light

Light the way with these solar candy canes. With a pvc pipe, some red tape and a solar powered light.
Instructions DIY Candy Cane Solar Light


7. DIY Giant Silver Bells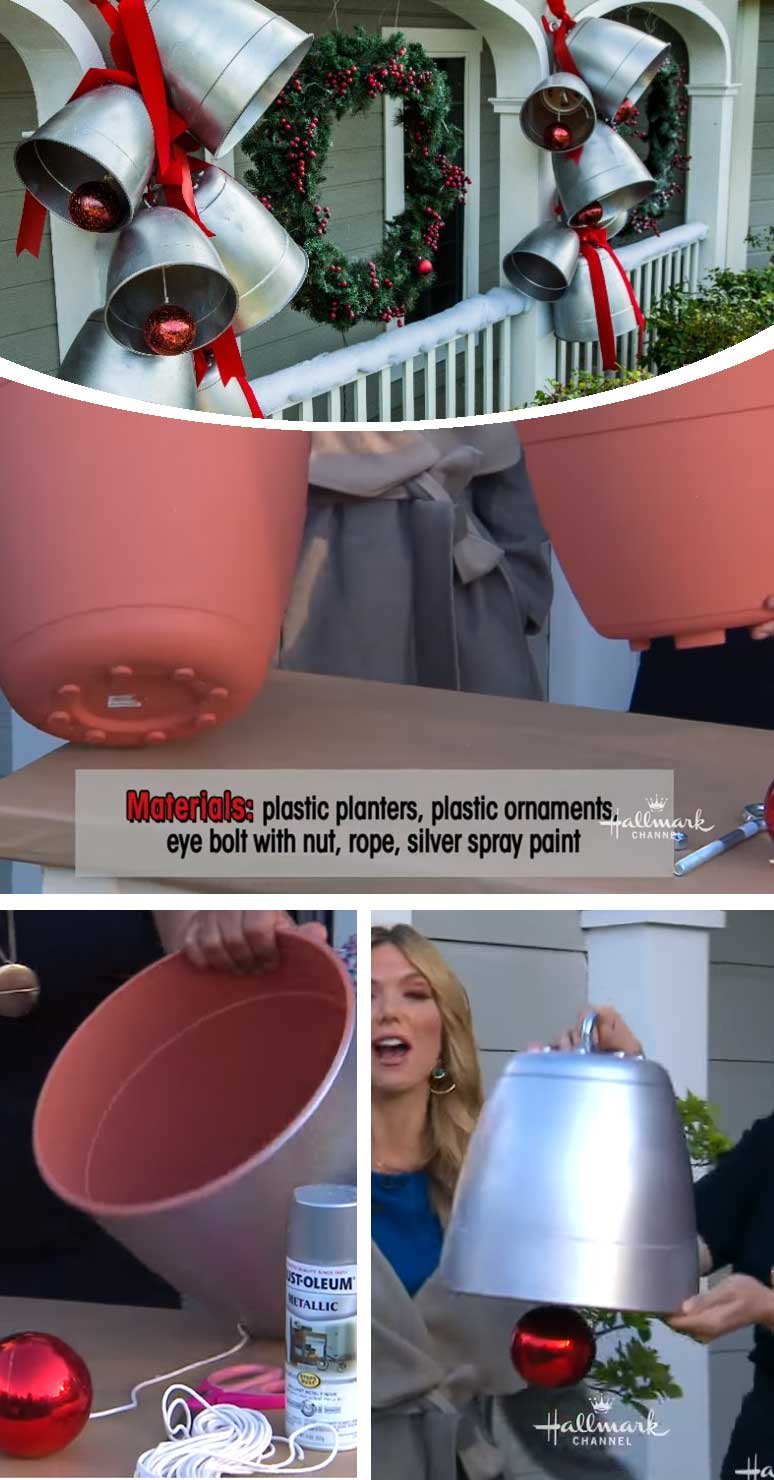 Make these joyous bells from plastic planters and silver spray paint.
source youtube
8. DIY Santa Mailbox

Make sure Santa gets all your kids letters by making this awesome mailbox. Use ornate L brackets to create a vintage look and get as creative as you want with embellishments.
Instructions DIY Santa Mailbox
9. Santa's Magic Key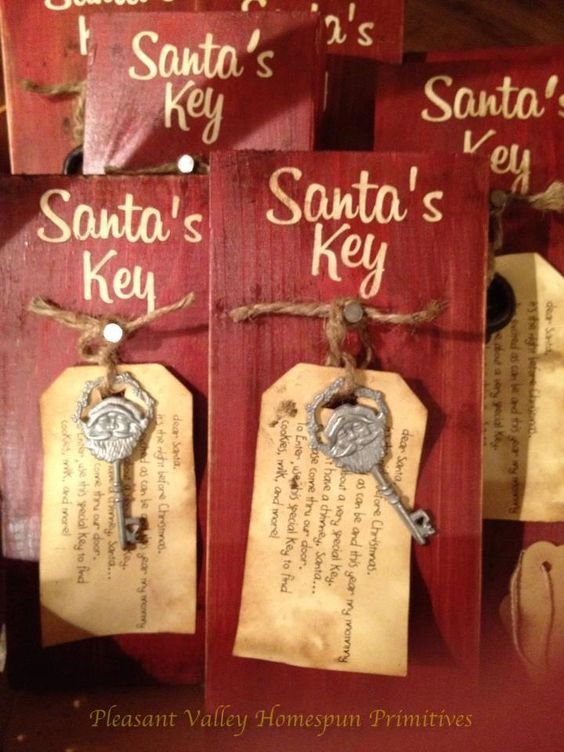 This is a great idea if you don't have a chimney – maybe you are living in an apartment for example. So if your child asks "How will Santa get inside?" – you can make one of these with a decoration "magic" key and leave it outside your front door for Santa.
Instructions Santa's Magic Key


10. Wooden Snowmen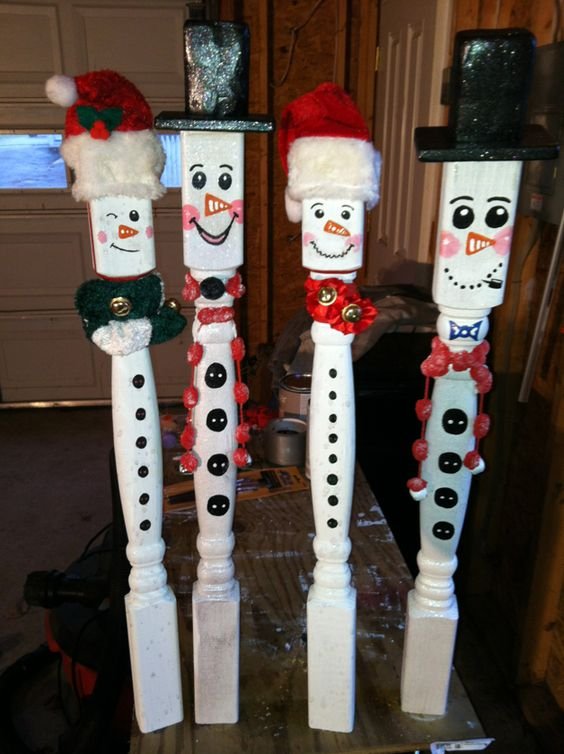 If you have scrap bits of wood such as old fence posts then this idea is perfect and can be reused every year.
source laforce
11. Christmas Window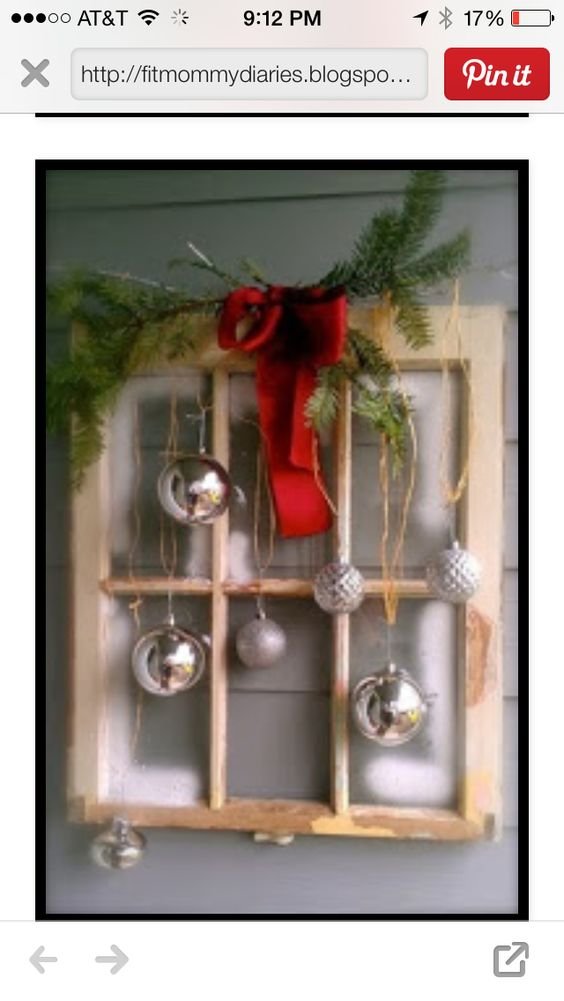 How awesome would this look outside your door. Upcycle an old window pane and decorate in a festive style. It can also be switched out for the different seasons and holidays.
12. Giant Lollipops

Red rubber balls form the basis of this festive idea. Wrap the balls with cellophane and attach your bows. You can make them in different colors – whatever goes with your theme.



13. DIY Giant Christmas Ornaments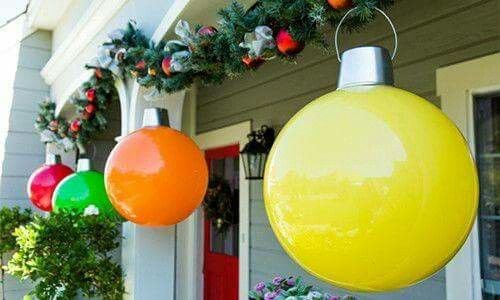 These ornaments will really brighten your home and they are so simple to make. Use large rubber balls in different colors and glue on a tin bucket!
Instructions DIY Giant Christmas Ornaments
14. Chalk Pen Galvanized Buckets

Light the way for Santa with these rustic looking buckets. Use garland and fairy lights for the inside of each bucket and Paint the letters J, O, and Y on each.
source findinghomefarms
15. Pallet Christmas Tree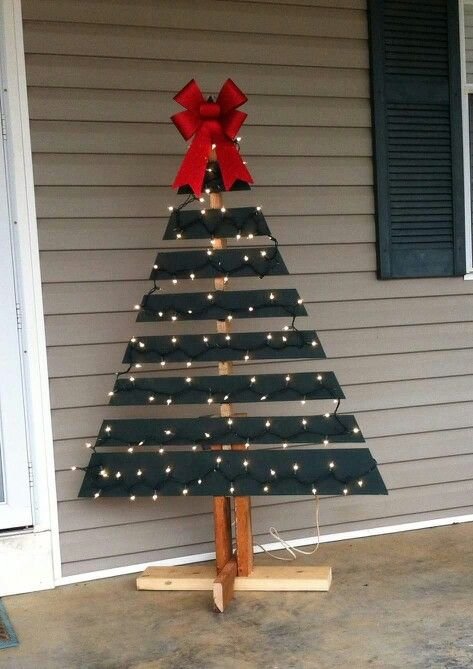 Turn a pallet tree into a Christmas tree for the outdoors with a saw and some green paint.


16. Mickey Mouse Wreath
17. DIY Christmas Hanging Basket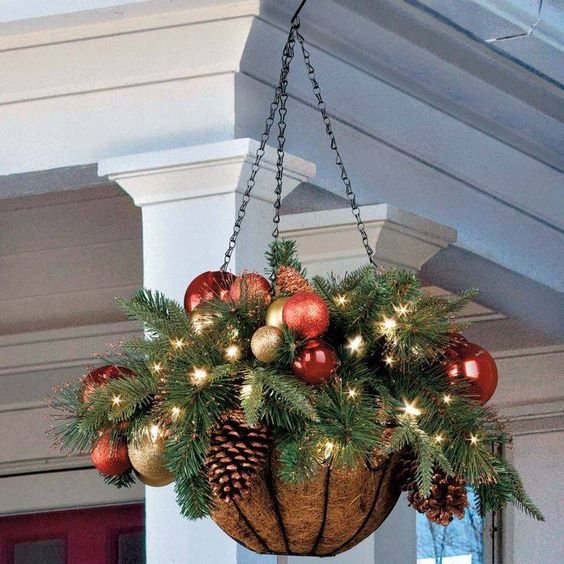 Add some festive charm to your porch with this hanging basket.
Instructions  DIY Christmas Hanging Basket
18. Pinecone Wreath
19. Outdoor Christmas Chandelier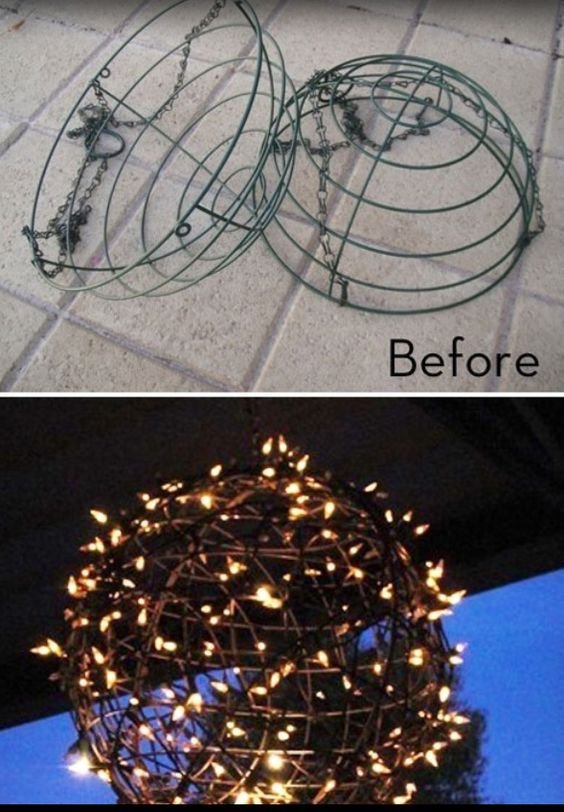 You'll need 2 metal wire hanging baskets, floral wire and a string of 100 Christmas lights to make these pretty festive light globes.
Instructions  Outdoor Christmas Chandelier
20. Winter Floral Arrangement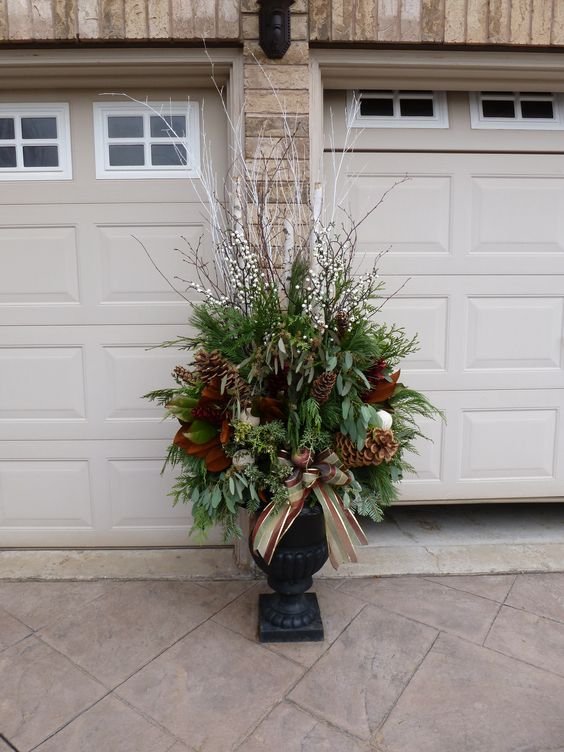 21. Giant Cupcakes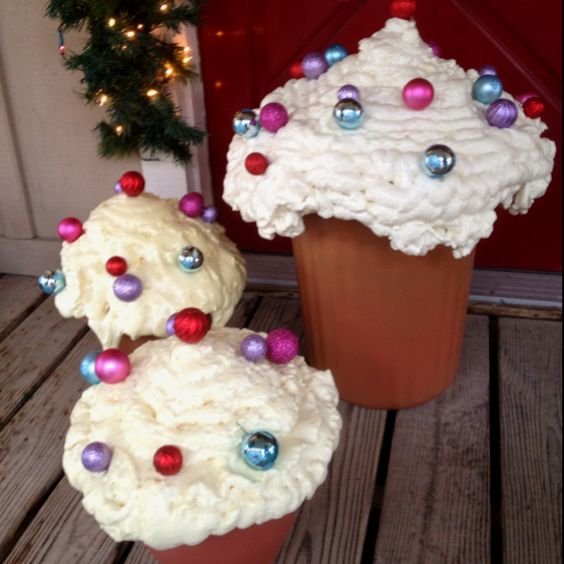 22. Candy Land Theme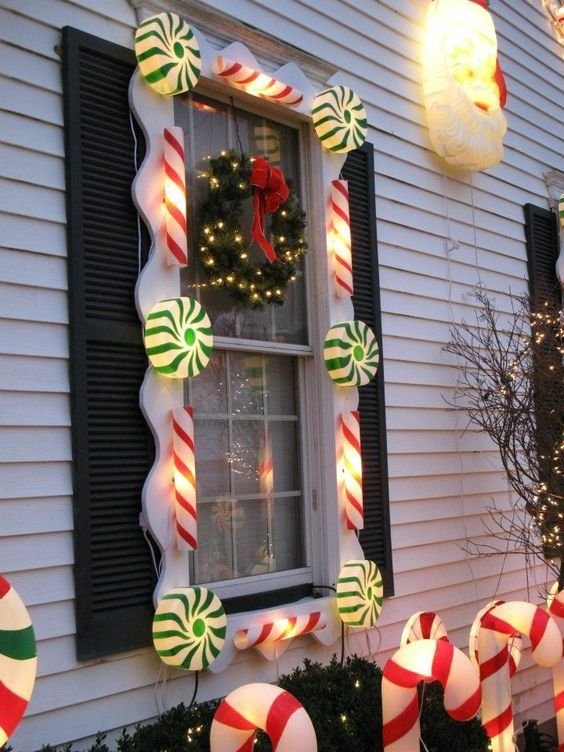 23. Giant Baubles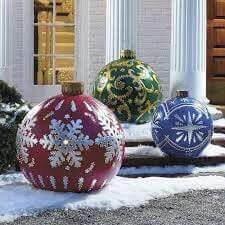 24. Outdoor Wreath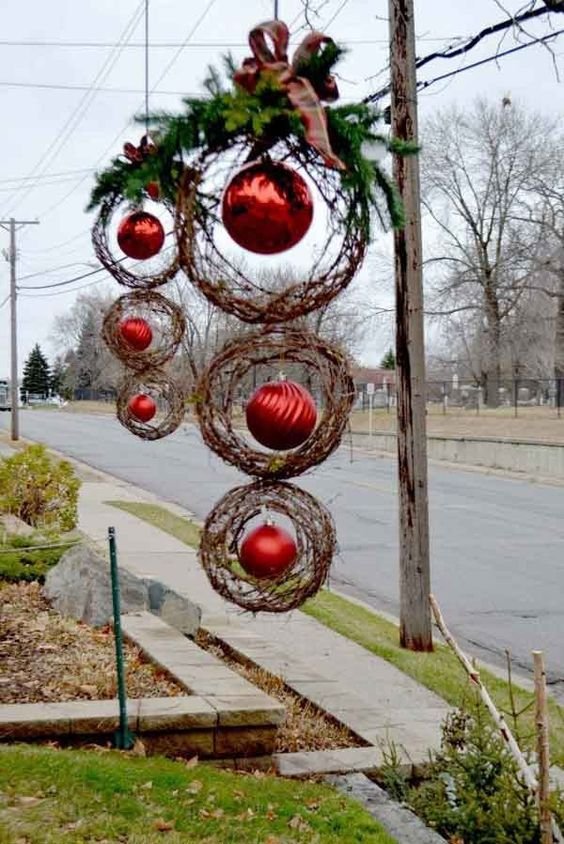 25. Giant Candy Canes
26. Giant Wreath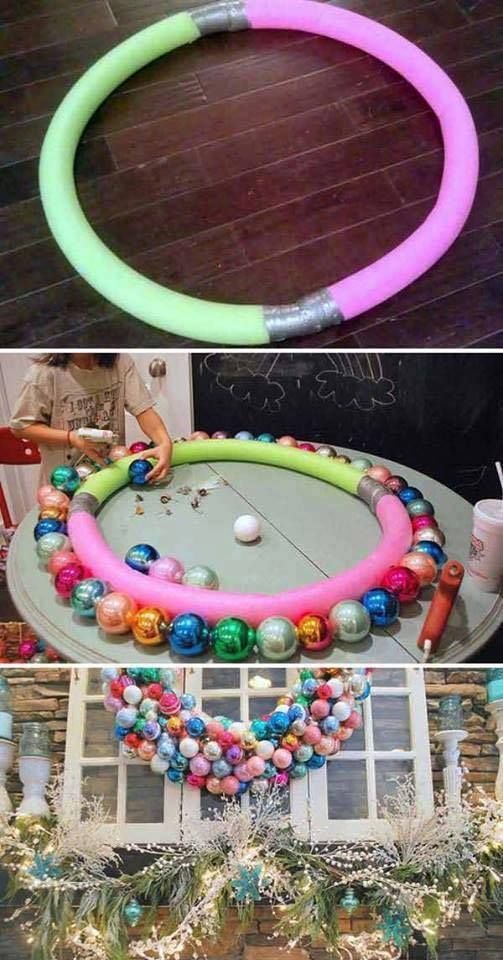 27. Snowman Wreath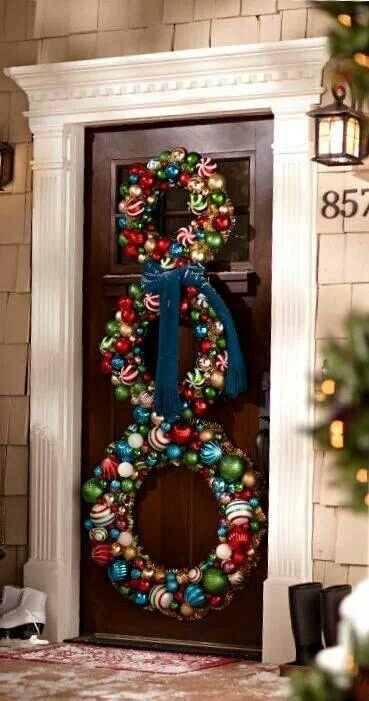 28. Christmas Gnome

Instructions Christmas Gnome


29. DIY Candy Cane Christmas Tree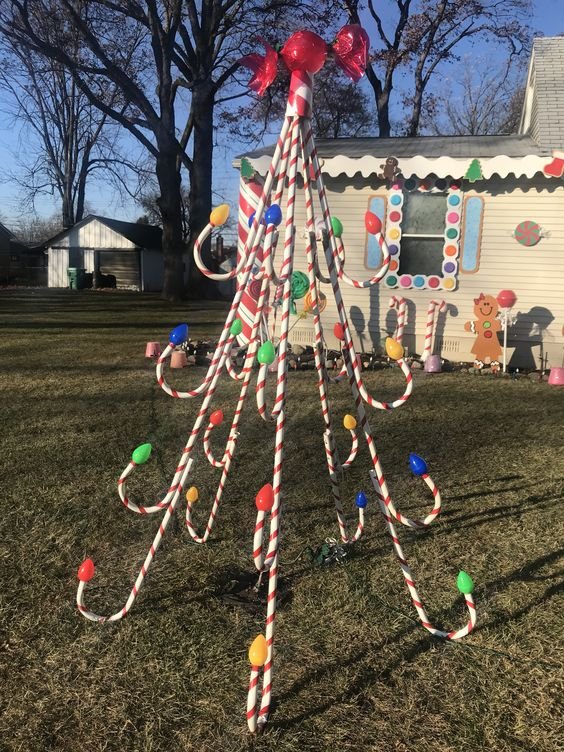 30. Wooden Signs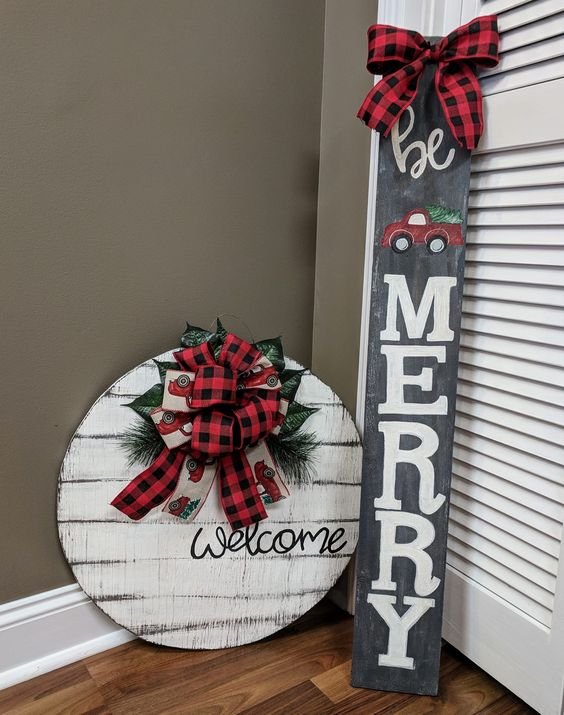 31. Joy Sign
32. Saw Tree