This Father's Day, show Dad how truly special he is with a handcrafted DIY gift! Capture a lifetime of memories with a custom photo collage or make something special with hand and footprint artwork. No matter what you choose, Dad will never forget this heartfelt gesture from a beloved little one! So get creative and make Dad's day extra special with these perfect homemade gift ideas.
1. Dad Collage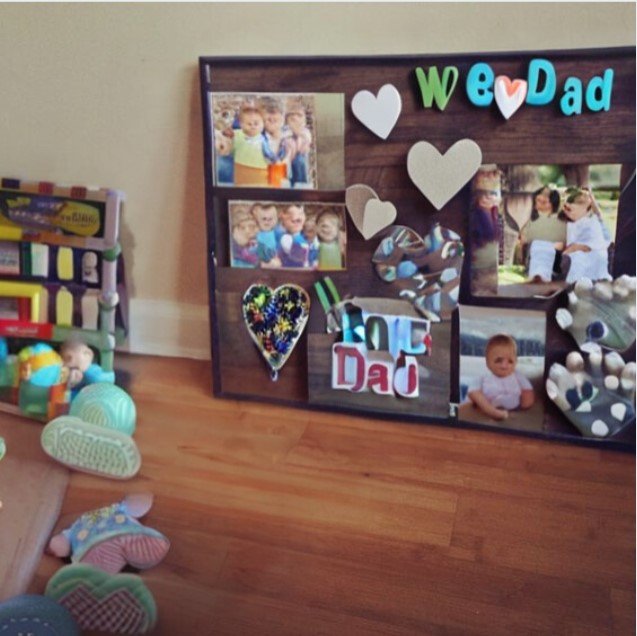 A DIY photo collage with pictures of baby and Dad together is a marvelous gift. Using a photo-editing software or an app on your phone, you can easily customize and print the collage to hang on the wall or put in a frame as a special Father's Day surprise. Print out the photos in various shapes, sizes, or colors and arrange them in a creative way that best captures the memories. This sentimental gift is sure to be treasured for many years to come.
2. Daddy's Shoes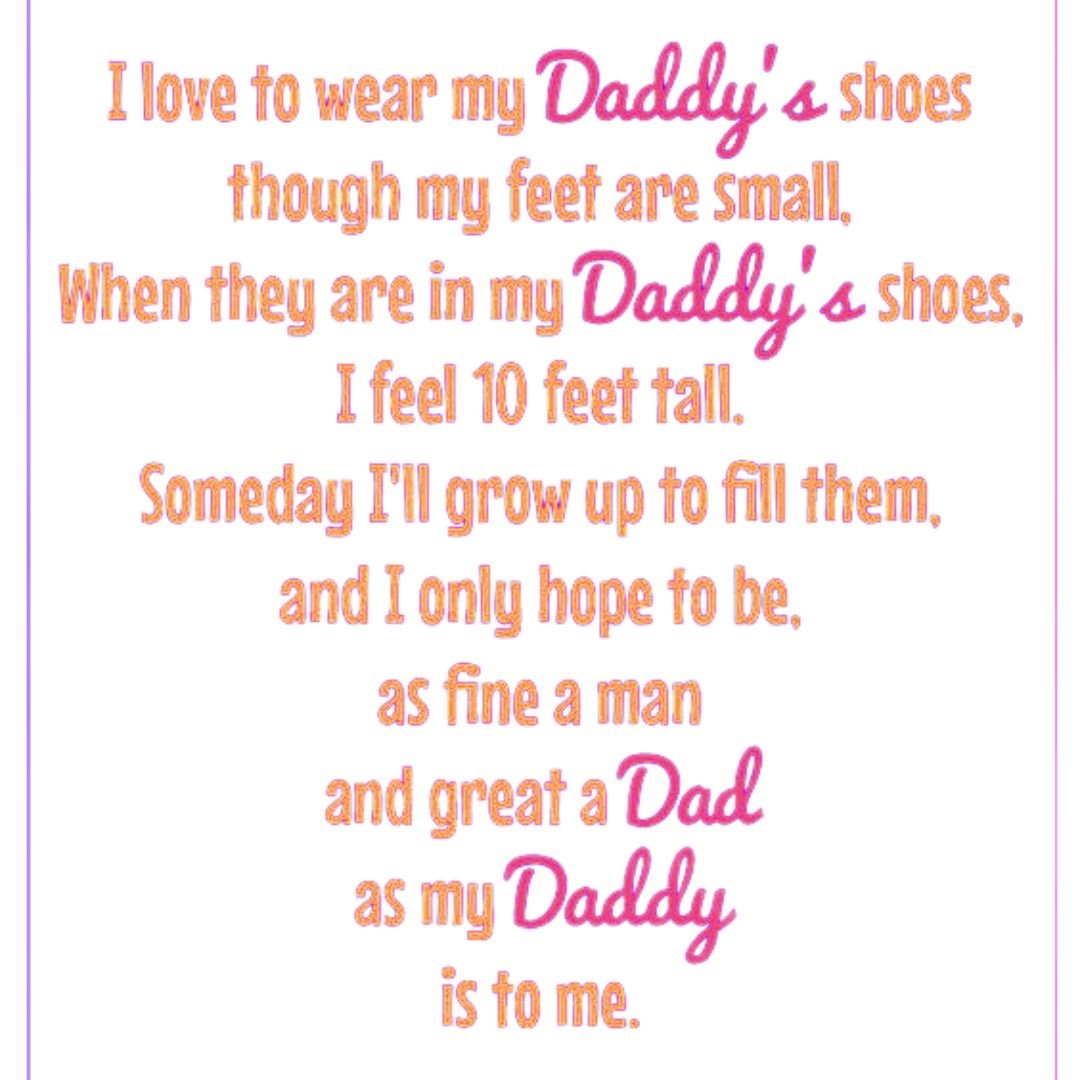 3. Best Dad Award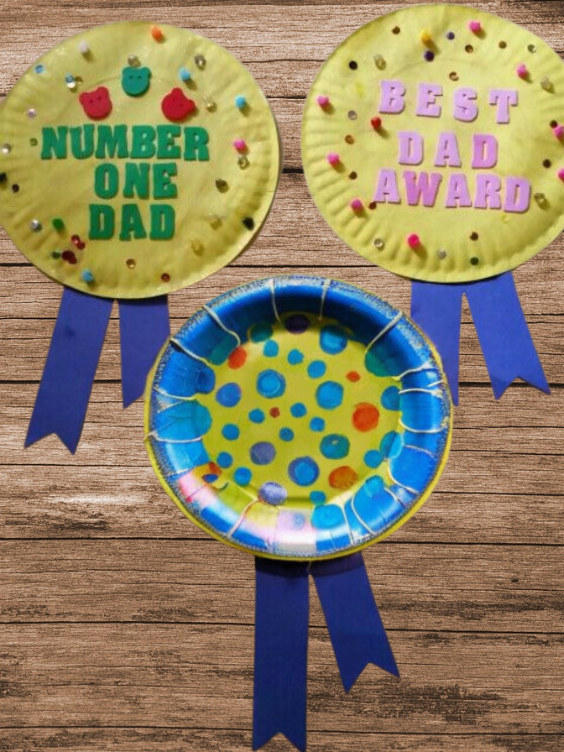 This is a really cute preschool Father's Day craft. To make this craft, you'll need :
Paper Plates
Yellow Paint
Paint Brush
PVA Glue
Crafty Bits
Ribbon
Sellotape
Marker Pen
Pencil
Paint your paper plate yellow – or any other color of your choice and allow to dry. Around the edge of the plate place some PVA glue to attach beads and gems and any other decoration you wish. Allow to completely dry and cute out messages such as "Best Dad" for the center of the plate.



4. Future Hunting Buddy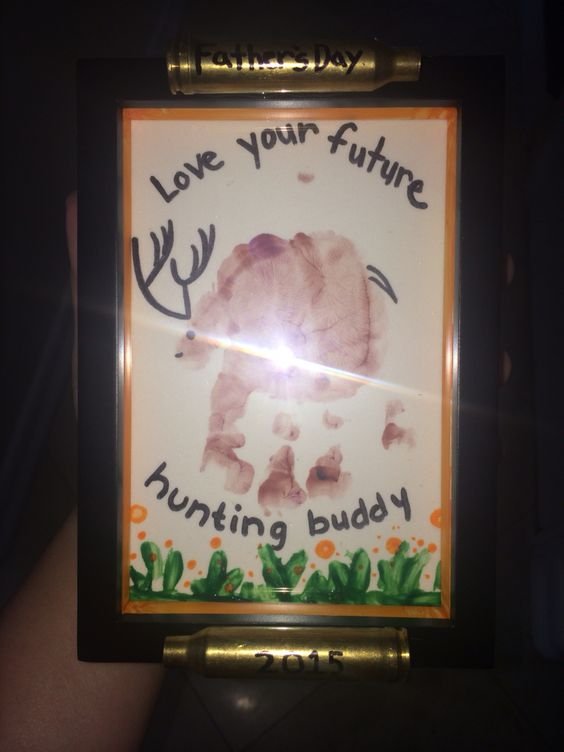 5. Superhero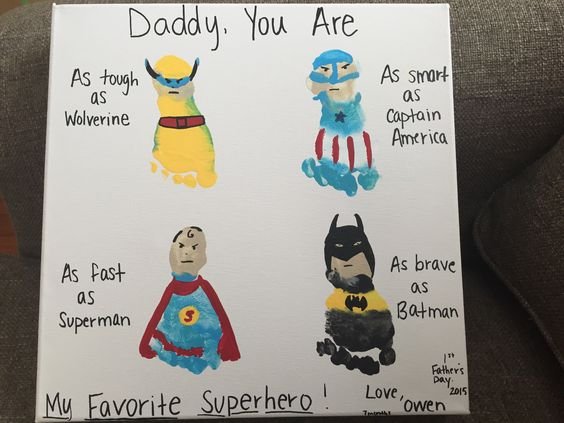 Fathers are our first superheroes so showing your baby's dad how important he is with this thoughtful creation will be stored in his heart forever.
6. Foot Print Craft

Make this sweet art with baby's foot prints. To make this craft, you'll need :
Blank Canvas
Washable Red Paint
Small Paper Plate
Baby Wipes
Dip your child's left foot in red paint and press down on the left side of the canvas. Use a baby wipe to clean the foot. Then repeat with the right foot and press down on the right side of the canvas to complete the heart shape. Take another wipe to clean the foot. Allow the paint to dry on the canvas. Finally paint the phrase "I Love My Dad" around the foot prints.
7. Daddy & Me Glasses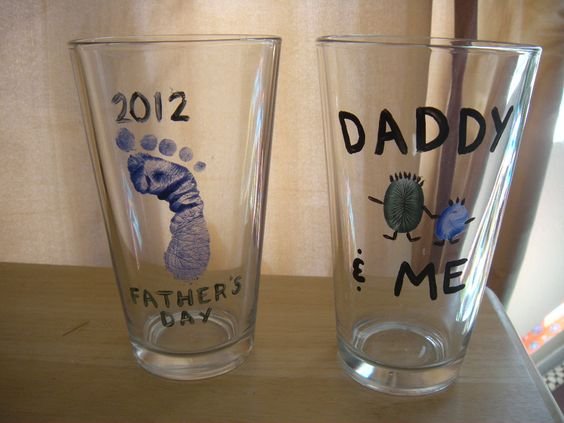 8. Grill Plate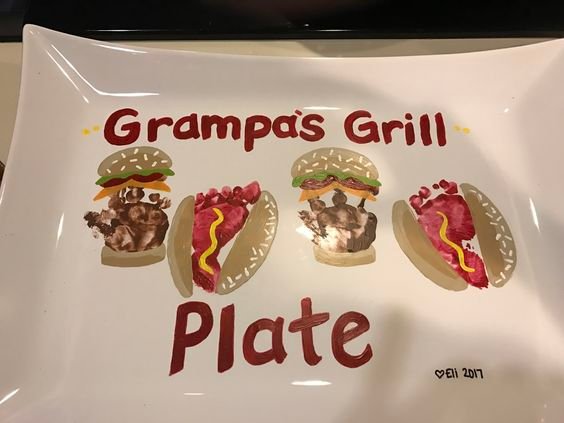 Purchase a ceramic platter and get creative to recreate this idea. To make this craft, you'll need :
water-based porcelain paint – Pebeo brand is dishwasher safe and non-toxic
markers
a platter – white looks best
Paint your design on the plate. Preheat the oven to 350 degrees and bake your painted platter for 15 minutes to set the paint.
9. Walk with Me
10. Dad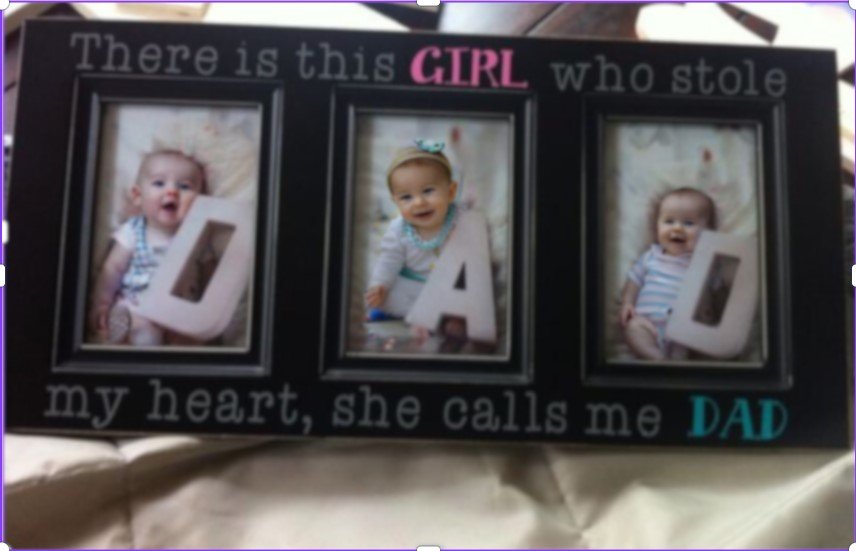 Capture his first Father's Day with photos of baby holding up the letters D,A and D.
11. Shoes
12. Baseball

Handprint Baseball~ Fathers Day Gift
13. Superhero Frame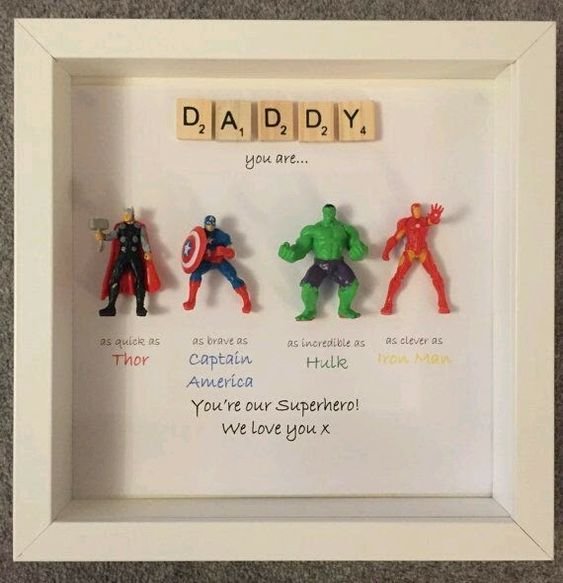 Instructions Superhero Frame
14. Footprint Father's Day Card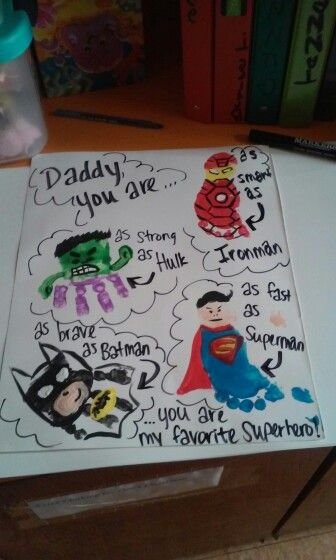 15. Marvel Handprints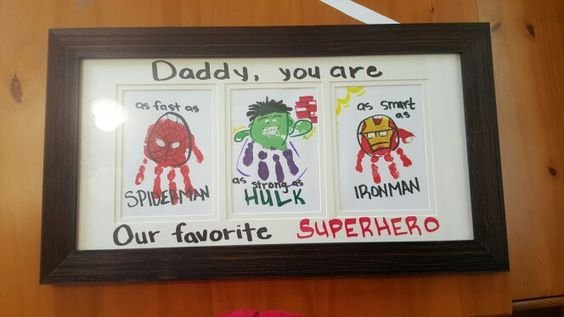 16. Superhero Footprint Craft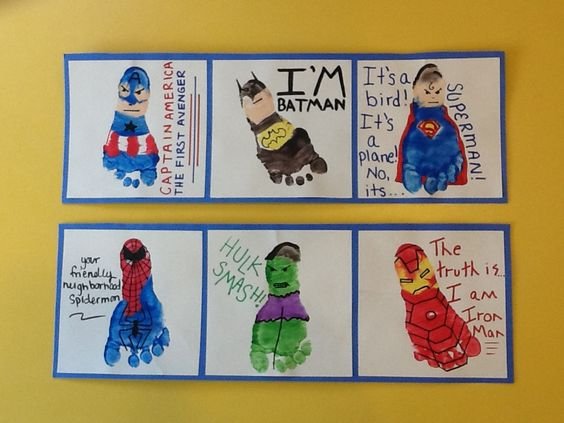 17. As Lucky as can be
18. DIY Baseball Canvas
19. Daddy's Biggest Fan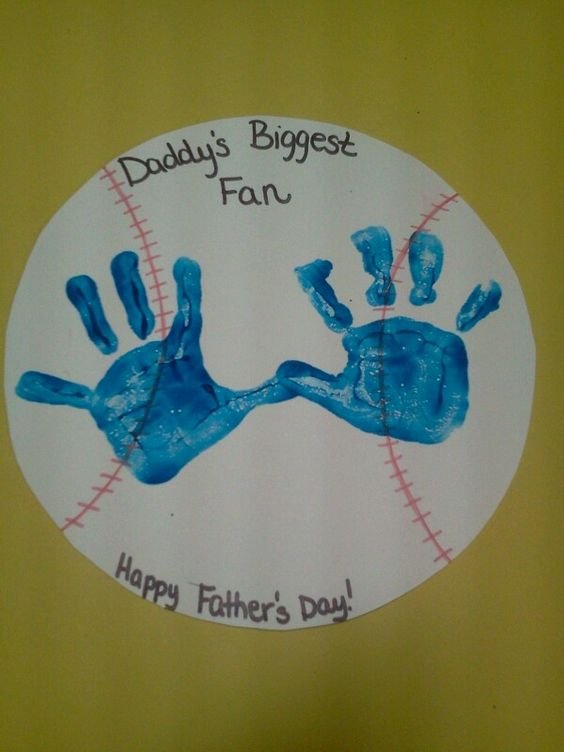 This is such a cute Father's Day idea for toddlers. Cut paper plate sized circles from poster board, then draw the seams on with a red sharpie. Help the children add their handprints. You could also do it on an actual baseball, and buy a clear plastic case for it for dad to keep on his desk.
20. Handful of Kisses
21. Happy Father's Day hand prints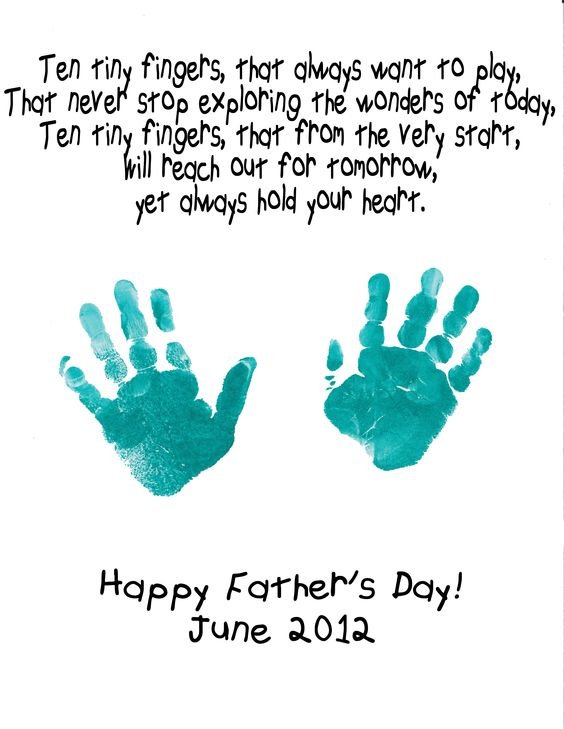 22. D for Daddy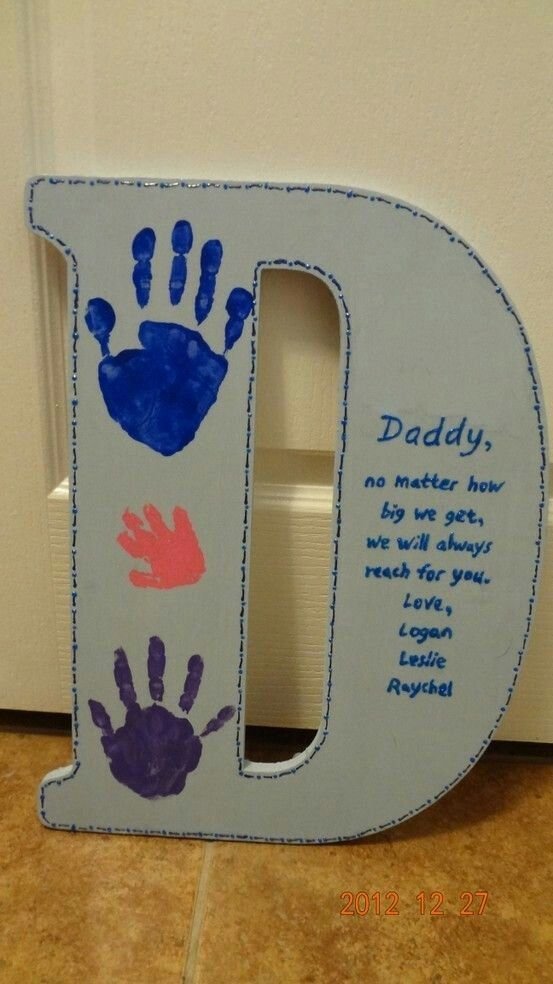 23. Little Princess

Keep daddy's little princess close to his heart by capturing her handprints forever on this sweet art. Make a pink bodice on a canvas help her print the skirt her hands.
For more DIY Fathers Day Gifts, check out these Father's Day Crafts