When Spring arrives, it puts us in the mood to clean the house, get rid of unneeded items and decorating for the season ahead.
With Easter approaching and bunnies in full hop – it's time to start transforming your home into a spring nest. Give a lantern a festive makeover by adorning it with items including ribbons plastic eggs and lights.
These lanterns can be used for other occasions too such as Independence Day, Christmas, Halloween and Thanksgiving. Simply change out the decorations for example you could add little ghost lights for fright night. These Easter Lantern Decor decorations will make a great addition to your home's Easter festivities and only takes minutes to create.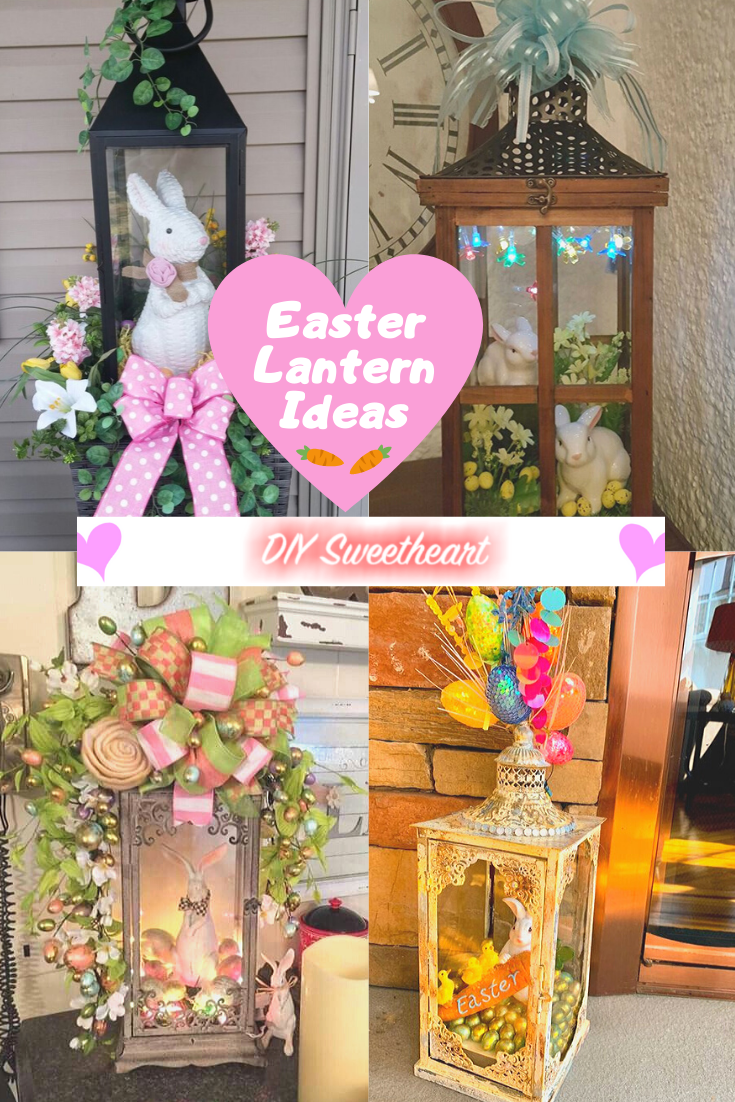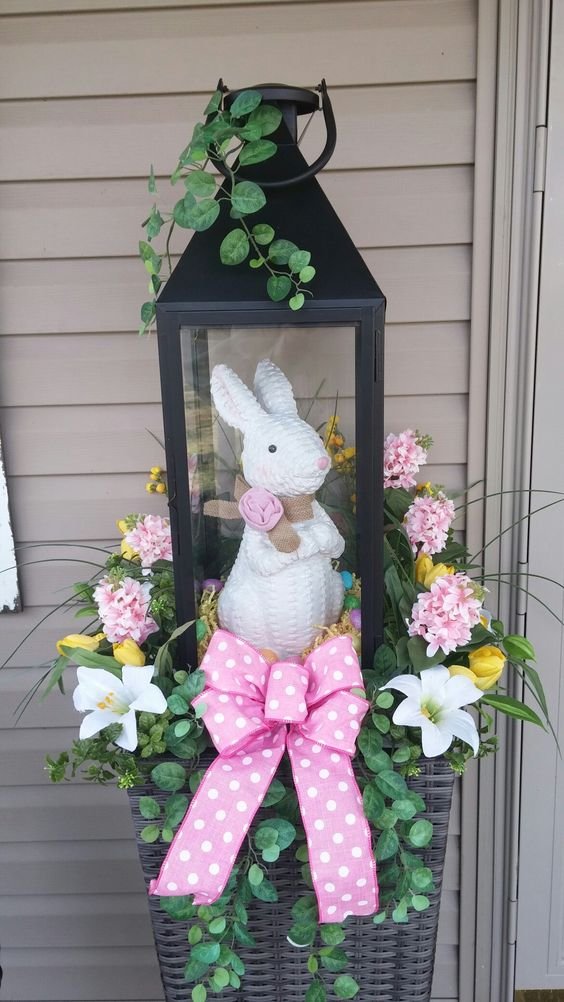 An adorable white bunny in the center of the lantern really looks perfect all throughout Spring.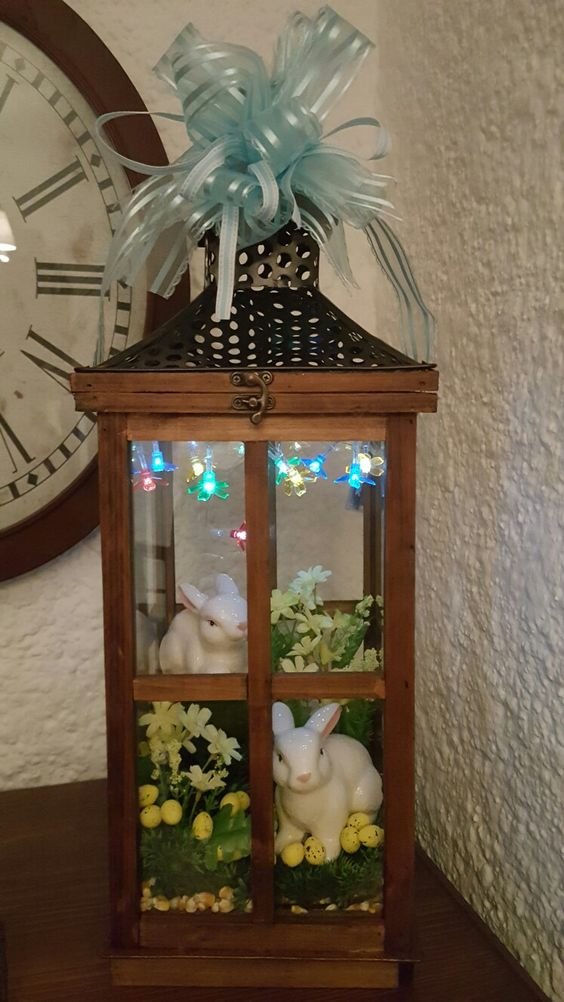 Add flower fairy lights to bring a touch of Spring inside.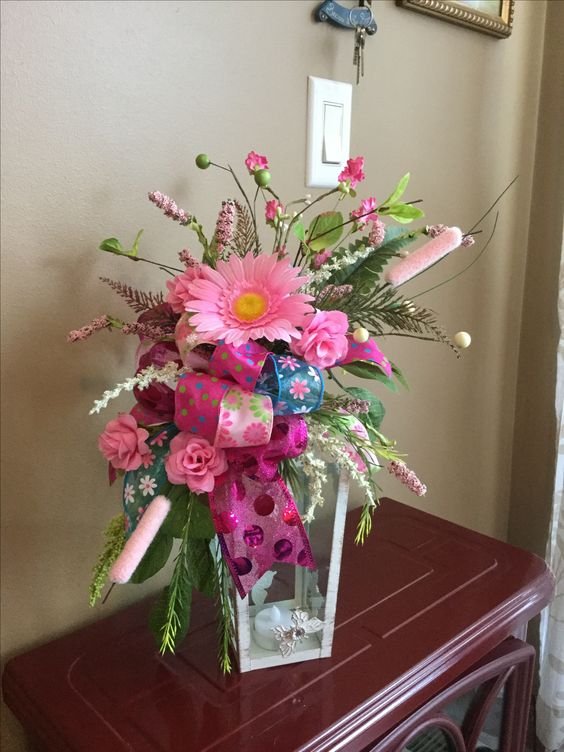 Another option is to add pretty faux flowers with ribbons to the top of your lantern.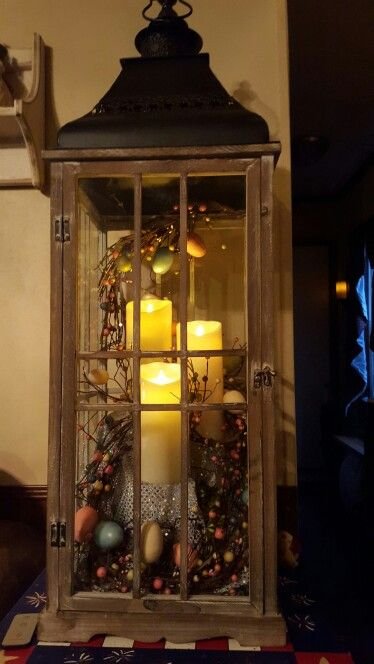 Create drama, by adding battery operated candles of different height inside your lantern
source pinterest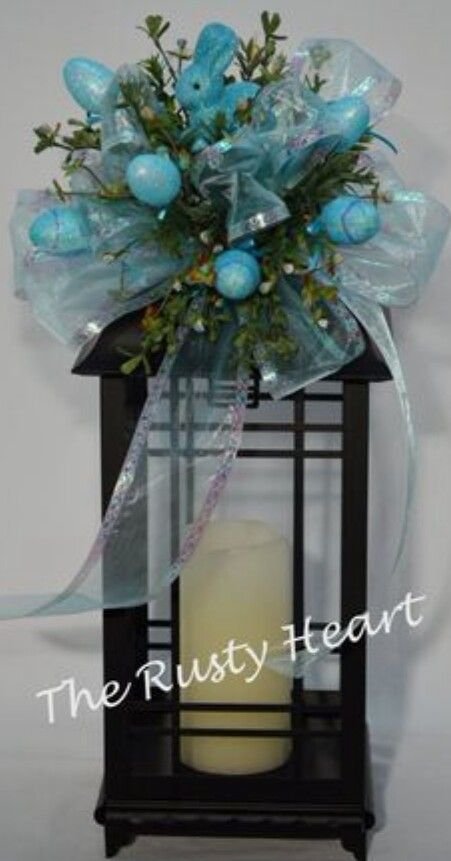 If you want to recreate this classy look by Rusty Heart, try spray painting eggs in blue, and add pastel ribbons.
source pinterest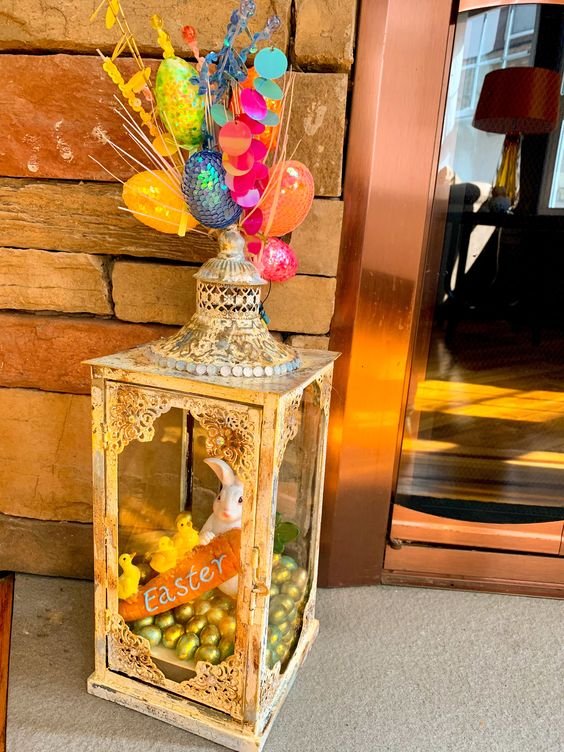 A treasure of little foil covered chocolate eggs covers the base of this colorful lantern, and cute little chicks are placed on top.
source pinterest

Flowers, eggs and bows – these are a few of my favorite Easter things!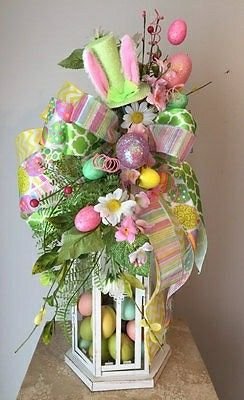 Layering your lantern with lots of pastel colored plastic eggs will really look beautiful in your home.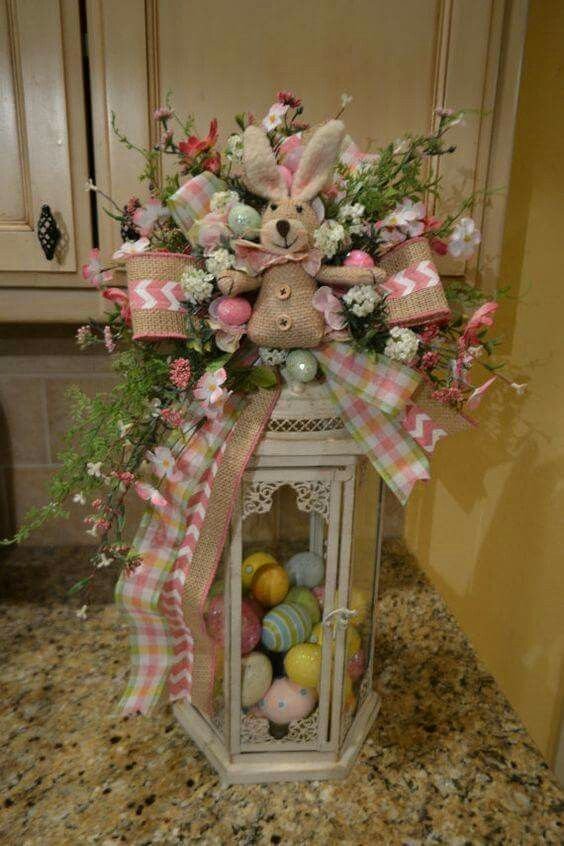 I love the adorable burlap bunny peeping from the top of this lantern!
source pinterest


There's something very classy about pastel eggs hanging in a lantern.
source pinterest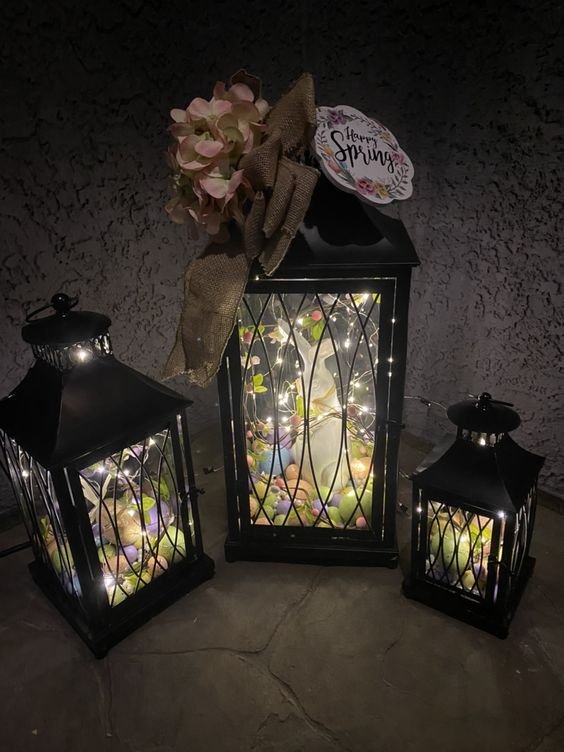 The delicate firefly lights in these lanterns ensures a glow all throughout the evening.
source pinterest

This whimsical look almost looks like it came straight from the pages of Alice in Wonderland!
source pinterest

This idea would also look great outdoors on your porch.
source pinterest

Gingham is an adorable fabric choice for your Spring decorating.
source pinterest

Eastern Lantern Swag with Bunny Head and Birds Nest, Spring Flowers and Ribbons on an 18″ Distressed White Metal Lantern
source pinterest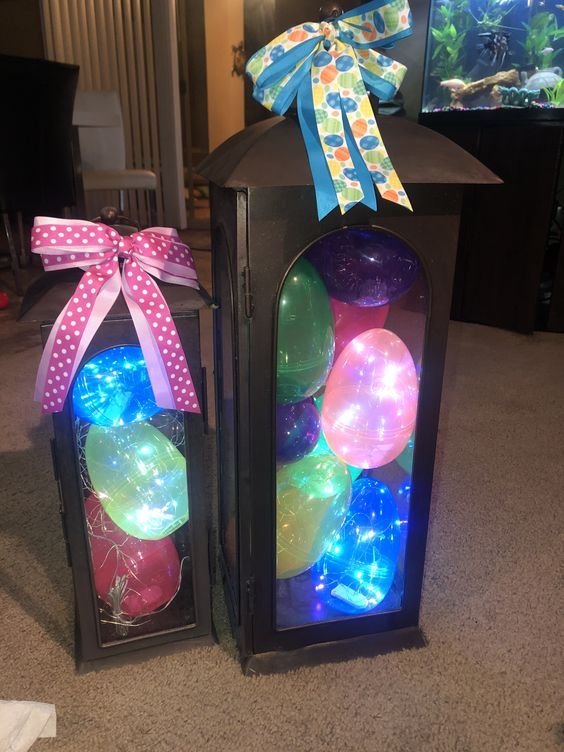 Outdoor solar light Easter Egg Lanterns.
source pinterest

A beautiful vintage look is achieved using a white lantern.
source pinterest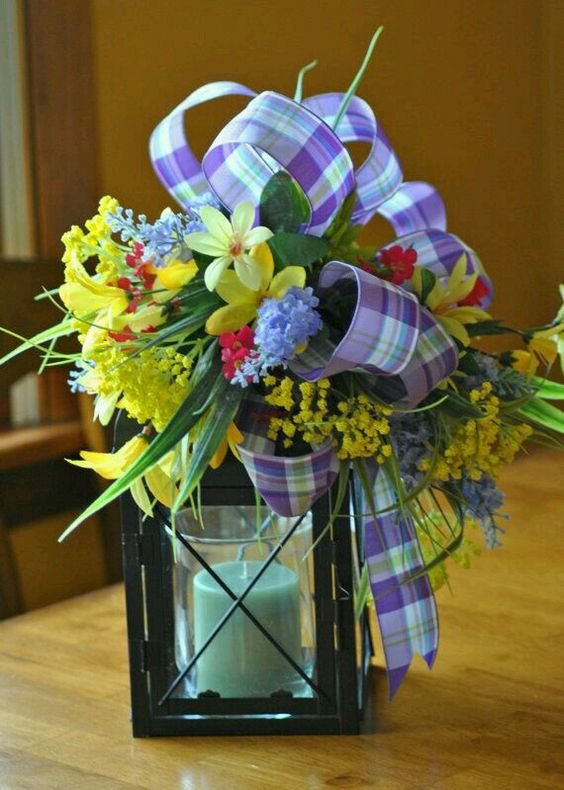 Lantern Swag Floral yellow and blue.
source pinterest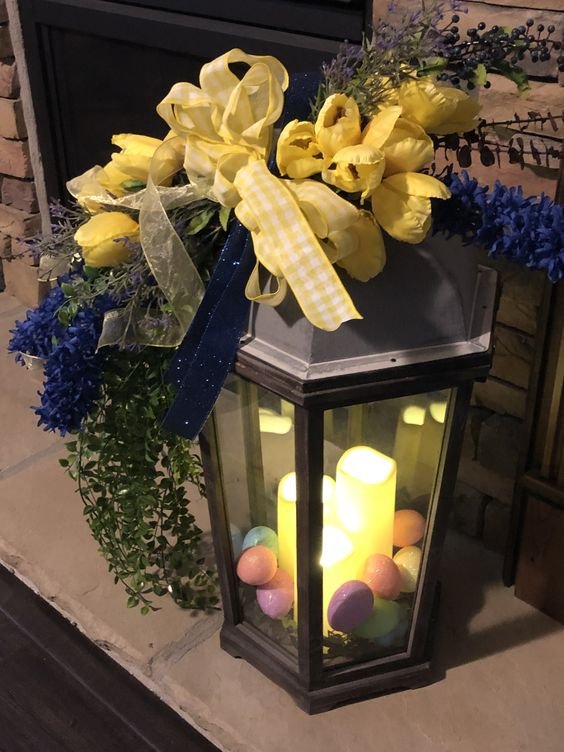 Easter lantern with purple flowers, yellow tulips and Easter eggs.
source pinterest